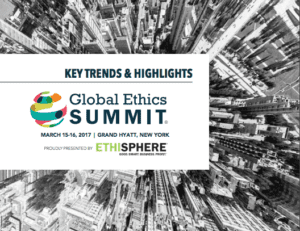 With ethical culture and performance perennially at the heart of conversations during the Summit, a renewed dialogue focusing on topics such as leadership diversity, sports integrity and a rigorous commitment to human rights inspired the delegation to move beyond traditional compliance and governance to enhance company values, social character, stakeholder trust and collective action.
The complete archive of session recordings can be seen on the Global Ethics Summit website: https://globalethicssummit2017.com.
The annual recap of the Summit captures just some of the many inspired and interactive discussions that took place over two days. Complete the form below to download and review our recap.