In Conversation with Craig Kreeger, CEO of Virgin Atlantic Airways
Interview by: Ty Francis, Executive Vice President & Group Publisher, Ethisphere
Since its inception, Virgin Atlantic has succeeded in establishing a customer-centric culture built around continually driving new ways to provide industry-leading service. Ethisphere's Ty Francis caught up with Virgin Atlantic CEO Craig Kreeger recently to discuss the airline's strategy, how it's working to maintain its strong position, and what new directions they may take going forward.
Ty: How does the corporate culture at Virgin Atlantic support the airline's efforts to serve customers with integrity and provide top-notch service?
CK: The relationship between our brand and our customers is really the relationship between our people and our customers. We encourage our people (through our hiring, training, and practices) to be themselves at work and to have fun. The human connection that comes from that creates a great relationship and has come to define what we refer to as 'uniquely' Virgin Atlantic.
We listen to our customers, genuinely seeking to make their experience great. In the end, we always want to be at our best to represent our brand and build genuine relationships with our customers so that they have a positive experience flying with us.
Ty: What sets you apart from competitors with respect to your service offerings and value proposition?
CK: We exist to create a better experience in air travel for our customers. We began by resolving a need for the customer, with a mindset established by Richard to make the journey as enjoyable as the destination. This mindset runs through the company today by putting the customer at the heart of everything we do. We constantly look at pioneering new ways to improve their experience—from the moment they step into our clubhouses to prepare for their journey, to the point at which they step off a flight.
We also listen to our customers and try to be a step ahead by addressing their needs even before they realize they have them. For example, we were the first airline to feature an on-board bar and the first to introduce seatback entertainment. However, we don't innovate just to compete with other carriers. We innovate for our customers to improve their experience.
Ty: How does today's consumer differ from the one of yesteryear, and how are you keeping pace with their evolving needs?
CK: We see that many of our customers have an entrepreneurial spirit—they chase life and opportunities. They're always on the go and therefore always like to be connected. They enjoy more high-touch experiences and appreciate when brands go out of their way to accommodate their busy schedules.
That's why we've created a mandate to deliver WiFi across our entire fleet. That's also why we've created unique environments in our clubhouses (with spas and fine dining options) and on our aircrafts (with a bar in Upper Class and tons of on-board entertainment options) so that customers can freely choose how they spend their time prepping for meetings, networking or relaxing.
Ty: What new services and innovations can your customers expect to see going forward?
CK: At Virgin Atlantic, we're focused on what has always made us successful: our service and our experience. Similar to other Virgin brands, we decided from the onset that we would shake things up and inject some style into aviation. For us, it's not about getting into the 'amenities arm race' like other airlines. We won't settle for the norm, and therefore we will always be at the forefront of innovation.
More recently, we announced that in addition to investing in our fleet, including our new Boeing 787s, we will be investing £300 million into our customer experience by 2018. This investment includes both on-the-ground and in-the-air experiences such as the opening of our brand new Clubhouse at LAX, the new Wander Wall for our Premium Economy passengers (to encourage socializing with our cabin crew and other passengers) and enhancements to our food and wine service. We're constantly looking into emerging technologies such as wearables, to make our customer experience more enjoyable.
Ty: After almost 30 years in the airline industry, what have you learned about the consumer mindset and the elements of success?
CK: I've seen a lot in my 30 years in the business, but what I've learned is that consumer demands will continually evolve based on culture, society, and technology. We're in a 24/7 world where businesses are more global than ever before. The world is getting smaller and there's added pressure to be always on.
As a result, the airline business is more valuable than ever before in helping to broker connections, drive networking opportunities, and advance business relationships. It is our responsibility to be a step ahead in order to provide the best experience to customers—from WiFi across our entire fleet, to a choice of channels on our on-board entertainment systems—so that they can be as efficient and relaxed as possible. What hasn't changed is that people want to enjoy the journey as much as the destination.
Ty: What do you enjoy most about this job and what is your vision for the future?
CK: I love my job—when I got the job, two friends sent me exactly the same text message: to say that I had the coolest job in the industry! It's a relaxed environment where we let our people come to work and be themselves.
What I really do enjoy the most are the people. The enthusiasm and spirit of our employees and our customers for our brand is what motivates me every single day. They believe in what we do and have fun doing it. Their friendliness and care for the brand and how it's perceived comes across in the way they interact with customers, on the ground and in the sky. I truly believe this is why customers fly with us time and time again and this is why I love coming to work every day.
Expert Biography:
Craig Kreeger joined Virgin Atlantic as Chief Executive in February 2013, taking the reigns of Sir Richard Branson's airline after a 27-year career at American Airlines (AA). Born in 1959, the native Californian grew up in Sacramento. He studied Economics at the University of California, San Diego and graduated from UCLA with an MBA in 1985.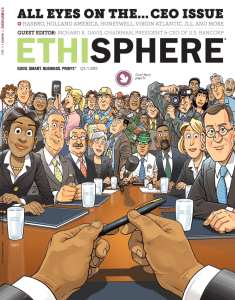 This article was featured in the Q3 2015 issue of Ethisphere Magazine. To subscribe and learn more about Ethisphere Magazine click here.