After rounds of blind tastings at the United Nations by an international independent jury of top culinary and coffee experts, illycaffè, the global leader in high-quality coffee and a pioneer of large-scale, directly-traded coffee, announced that coffee beans grown by Honduras's José Abelardo Díaz Enamorado were designated "Best of the Best" in the 2017 Ernesto Illy International Coffee Award. The top-scoring coffee lot was named from among 27 of the world's best lots from the 2016/2017 harvests in nine countries, at a gala on October 16, attended by representatives of each grower and delegates from each nation.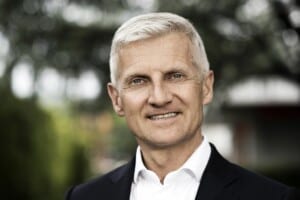 The Ernesto llly International Coffee Award, named for illy's visionary, second-generation leader, recognizes excellence in raising coffee of the highest quality through sustainable means. The award celebrates his company's hand-in-hand work with farmers to realize its dream of offering the best coffee to the world. After the celebrations, Ethisphere's Aarti Maharaj had a chance to catch up with Andrea Illy, Chairman of illycaffè a five-time World's Most Ethical Companies ® honoree, to discuss ethics, sustainability and its link to performance.
Aarti Maharaj: Tell me more about today's award and why it's important to you.
Andrea Illy: This award allows us access to the best coffee in the world. It stimulates growers to do the best work possible. Then, we can buy that coffee to be part of our blend. That means this award is kind of a driver for our sourcing strategy, and pays tribute to growers. They really deserve to be celebrated. This award is an opportunity to help growers and consumers meet, and its good for them both.
Aarti Maharaj: I recently read some research that millennials are researching what they buy more than previous generations, and that they're more likely to do business with companies that invest in sustainability and integrity. That goes to your point about building a bridge between consumers and suppliers.
Andrea Illy: Yes, it's a perfect combination. It helps us improve quality, makes the growers happy and motivated to continue, and putting him in touch with the consumer helps the consumer to learn more. It's consumer education.
Through the award, we know growers personally, so we have 100% traceability. This is at the center of our direct sourcing strategy. Every pound of coffee, we know exactly which farm, which processors it is from. The alternative would be to buy unknown coffee through traders on the marketplace, and you don't know where it comes from.
Aarti Maharaj: So sustainability, traceability, education of consumers and quality – why are all of these so important to you personally?
Andrea Illy: Illy's strategy is to lead in quality, but leading in quality doesn't guarantee a lead in the marketplace, just being a little bit better than our colleagues. Leading quality means exceeding expectations and doing the best which is feasible, not the status quo.
With that in mind, over 84 years of the company's history, every single organizational aspect of the company has been driven towards quality. The way we source coffee, the way we educate growers to elevate quality standards, blending coffee from different origins, and so on.
Aarti Maharaj: So going back to your award, what do you anticipate will be the next steps? For example, do you anticipate it will inspire farmers to build their communities?
Andrea Illy: The coffee farmers, they are constantly challenged by difficult conditions, either in meteorology or markets, and they need to be innovative. I have presented on possible strategies to address these challenges, and they require us to have more investment capacity in the rural communities that are growing the coffee. So first, we must increase the amount of equity invested in the coffee supply chain. There are only $350 billion invested in coffee for sustainability, which is really not enough.
Most of these projects for sustainability and climate change adaptation need to be bankable. We need to work on this with the whole coffee community. Other than that, adapting to climate change is the major challenge.
Aarti Maharaj: With that, is there a link between sustainability, ethics and ethical performance?
Andrea Illy: Yes, there is. My understanding is that corporations are not profit machines. Corporations are social institutions with the aim of improving quality of life. Corporations serve consumers, and consumers have needs. As long as you do an honest job serving consumer needs, you contribute to societal improvement. With this philosophy, companies are not only shareholder companies, but stakeholder companies. The most important stakeholder is the consumer who pays. Then, you have the employees, the suppliers, the community in general, and the shareholder. Profit is not an end. It's a means for pursuing this mission of improving quality of life.
With this idea in mind, ethics is to be pursued in the long-term. But everything is intertwined. This is ethics, yes, but it's also sustainability, because of course if you're not sustainable, if you deplete resources and damage the environment, that is not ethical.
And does it eventually contribute to financial performance? Apparently, yes. Many studies have shown that sustainable investments are even more profitable, deliver higher returns compared to more speculative investment. Companies which are typically sustainable have fewer liabilities, they have fewer risks, and their reward is less risk to their capital.
Aarti Maharaj: In your book, you said, "Ethics are a fundamental value at illy, and they are construed as building long-term value," as you just mentioned. How does your company link ethics to long-term performance?
Andrea Illy:
An example: if the coffee price is extremely low, then the profit for growers becomes so tiny. This would be a benefit for corporations, because we could make higher profits if we pay less and keep our prices high. But this is lose-lose eventually, because we compromise our supply chain. You spend years developing a community of growers working with you, then you don't meet their profit needs because the market is low. That means we have premium prices: the lower the official price in the market, the higher premium we pay in order to make sure that the grower turns a profit in any possible market condition.
Aarti Maharaj: And in turn, that can impact your reputation.
Andrea Illy: You know, the reputation is a consequence. A grower who is unsatisfied and does send you coffee anymore because he thinks you squeezed him in the past, that's a kind of retaliation. After you go through the same cycle with more than one grower, your reputation is destroyed.
The same is true with the consumer. If you promise a product with a quality premium, and the consumer finds out that the product is inconsistent…maybe it can happen once, but if it happens again, you're done!
Ethics is simply being smart enough not to compromise your stakeholders' interest, and to make sure that there is always alignment.
My freedom ends where your freedom starts, and that includes future generations. This is why we must think long-term, building value in the long term through transparency, sustainability and people growth.
At the end of the day, coherence and consistency are the two most important attributes. Coherence is alignment, like in a mosaic. Every tile has to be in the right place. Quality, technology, marketing, distribution, pricing, labor…everything has to be toward the same goal, offering the greatest coffee in the world. And greatest isn't just the coffee, it's the way you behave, the way you get it done.
The second is consistency. Never change from your principles, never compromise them. Eventually you will be known for something.
---
About the Expert:
Andrea Illy serves as Illycaffè President of Gruppo illy Spa. Mr. Illy serves as Chairman, Chief Executive Officer, President and Managing Director of illycaffè spa. He has served as the Chairman of Ilko Coffee International and Vice Chairman of Fondazione Altagamma. He has been a Director of Gruppo Illy SpA since 2007. He serves as a Director of the Banca d'Italia SpA, Association Scientifique Internationale pour le Cafè, Illycaffè Shanghai Co. Ltd. and illy caffè North America, Inc.