What really enables organizations to survive and thrive?
By Dennis Chesley
How often do CEOs take a few steps back from day-to-day priorities to consider how to set their organization's capacity to survive and thrive beyond their own tenure? What factors do they take into consideration when working out how to make their organizations as resilient as they need to be in the face of changes and crises that are beyond their ability to directly control?
In a previous article in this publication, we reported on what more than 1,300 CEOs said about their legacies. Legacy is a window into CEOs' long-term thinking about why they do what they do—it determines choices and shapes culture. Now is an interesting time to consider legacy. CEOs and their organizations operate within increasingly complex environments brought about by global megatrends (see www.pwc.com/megatrends). The result is an evolving ocean of change. Some companies will fail to navigate it; others will find new worlds of opportunity.
The facts suggest that it's harder now to build organizations that last than it was for our predecessors. The average lifespan of an organization in 1930 was about 90 years, and by 1990 that had decreased to less than 25

[i]. Most of us don't anticipate the future disappearance of our organizations, but we should at least think through what could bring it about, if only to anticipate and have a better chance at preventing it.

Meanwhile, as CEOs prefer to imagine a bright and enduring future for their organizations, we need to instill a culture of resilience to enable them to continue. Strategy, leadership, and vision are essential, but they alone don't separate winners from losers, particularly over a longer time period. Building and maintaining enterprise resilience is key to being able to make decisions that enable an organization to survive and thrive in the face of threats that are more impactful than many people have seen throughout their career. And no organization can become more resilient if it is not imbued into the core of its culture.

If CEOs' desired legacy is a consistently successful organization, they can explore the factors that help them understand how resilient their organizations are and use these factors to steer them towards those new worlds of opportunity.

As we define it, resilience is an organization's capacity to anticipate and react to change, not only to survive, but also to evolve. Resilience doesn't begin and end with a crisis-proof supply chain, a great Risk Management team, a good business continuity plan, or a hardened IT system. Rather, the key word in our definition is "change." To be resilient, we need to be able to manage through a crisis or a disruption to business as usual, but we also need to see what's coming down the line, to anticipate and evolve to meet a changing landscape with confidence and have the ability to capitalize on it.

It's less about being able to predict every eventuality and more about being flexible enough to respond when, and in the ways, needed. This is resilience, which can be described in six powerful traits [see Figure 1]

.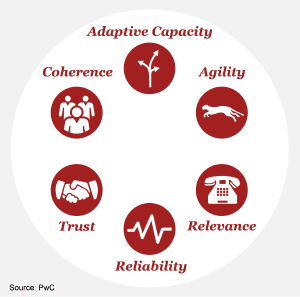 Figure 1: Traits of a More Resilient Organization (PwC)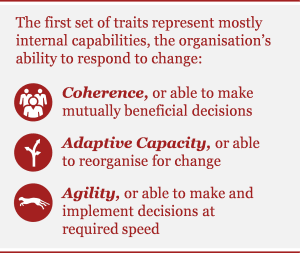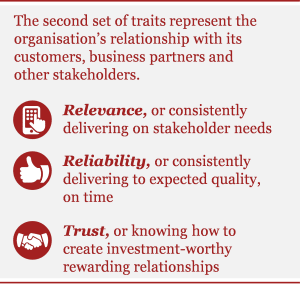 The first three traits represent mostly internal capabilities—the organization's ability to respond to change: Coherence, Adaptive Capacity, and Agility. These traits are vital in response to an escalating issue or crisis, when time and distance work against hierarchical decision-making. But they are also hallmarks of whether a company can exploit everyday, evolutionary, and rapid change, and sidestep the potentially negative impacts. A coherent, adaptive, and agile mindset needs to be embedded in the culture of entire organizations, not just in areas that we're used to changing often.

The second set of traits—Relevance, Reliability, and Trust—represent the organization's relationships with customers, business partners, and other stakeholders, which are equally important to the organization's ability to respond to change.

These soft-sounding qualities are actually very powerful—and leaders know it. They know the culture of their organization plays a huge role in establishing and maintaining them. Over half of the CEOs in our 18th Annual Global CEO Survey believe that a lack of trust in business is a threat to their growth prospects[ii].

But there's a challenge in accepting this view. If resilience is dictated by all the things that make us more or less agile, adaptive, trustworthy, relevant, reliable, and coherent, we have to look deeper into our organizations—into who we are, what we do and how we do it—and we have to look at how our culture supports (or undermines) our resilience. Frankly, we need to look at how critical resilience is to the organization we are and plan to be over time.

The start of this journey is nearly always identifying the key resilience indicators for our organization. These indicators are factors within an organization that drive the six traits of resilience. PwC's research and client experience has identified a set of key indicators. Every CEO and organization will need to carefully assess and adjust the most relevant indicators to support their particular strategy and appetite for resilience.

Our challenge to you is to start asking yourself these four questions:
Where do the biggest contributions to my organization's resilience come from?
What are the biggest threats and detractors to my organization's resilience?
What am I doing on a regular basis that helps me build resilience to support our longest-term aspirations? To capture opportunities?
Is my board asking more questions that hit on this topic and am I comfortable in addressing their concerns in a holistic manner?
[i] From Don Sull, The Upside of Turbulence: Seizing Opportunity in an Uncertain World (2009)

[ii] PwC 18th Annual Global CEO Survey (2015), http://www.pwc.com/ceosurvey

© 2015 PwC. All rights reserved. PwC refers to the PwC network and/or one or more of its member firms, each of which is a separate legal entity. Please see www.pwc.com/structure for further details. This content is for general information purposes only, and should not be used as a substitute for consultation with professional advisors.

Author Biography:

Dennis Chesley is a Principal in PricewaterhouseCoopers' Advisory practice and serves as PwC's Global Risk Consulting Leader. His clients include a broad range of public and private entities with global operations. Mr. Chelsey is an important driver of the firm's approach to solutions that cross the intersection of business strategy, risk management, business operations, compliance, internal control, and technology.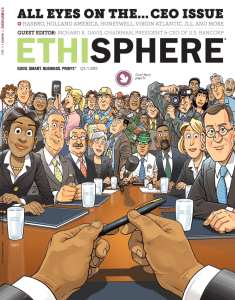 This article was featured in the Q3 2015 issue of Ethisphere Magazine. To subscribe and learn more about Ethisphere Magazine click here.