Henrique Barcelos works in the family business, a technology solution provider called LTA-RH based out of the southern Brazilian city of Porto Alegre. Many members of Henrique's family play a role in its operations, and the company sells almost exclusively to the public sector in a country recently notorious for corruption investigations. While it has always operated with integrity, since LTA-RH does business in a country with well-publicized scandals such as Operation Car Wash and a relatively high perception of corruption, LTA-RH must prove it has a sophisticated compliance operation—especially to remain a major partner of Dell Technologies.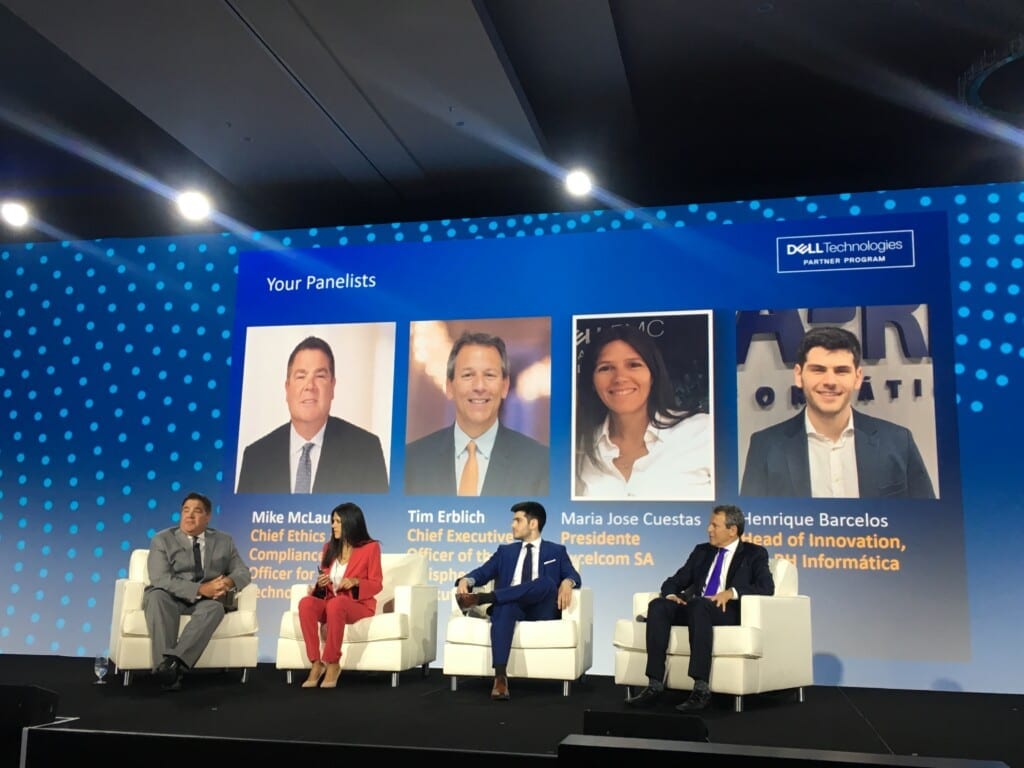 Dell Technologies, alongside experts from Ethisphere, recently rolled out an initiative to help bring compliance best practices to companies in its partner network such as LTA-RH. In 2020, that initiative will spread worldwide within its reseller ecosphere.
Dell Technologies recently launched their Progress Made Real 2030 plan which lays out key social impact commitments for the coming decade. The first several sections focus on topics that have become the bread-and-butter of company CSR—sustainability, strategic giving, social innovation, and diversity and inclusion. However, the final chapter, titled "Upholding Ethics & Privacy," ventures into new territory. In it, the company outlines a variety of concrete commitments toward becoming an even more transparent steward of its customers' data, as well as a commitment to digitally support its extensive partner network in the fight against corruption.
For any company, this would be a significant undertaking, but given the large partner community Dell Technologies' works with on a daily basis, it's especially daunting. In addition to selling directly to its customers, Dell Technologies' solutions are also sold via what it terms channel partners. Some of these partners are other large, sophisticated multinationals, with extensive anti-bribery and corruption controls to match Dell Technologies' own. However, in certain markets, some of those channel partners look a lot like Henrique and LTA-RH. Over the next decade, Dell Technologies plans to help them step up to meet international best practices.
A New Plan for Success
For Dell Technologies' Chief Responsibility Officer Chris Fraser, including ethics and privacy in the new ten-year social impact plan felt natural. "We did a company-wide survey asking team members what they felt were important initiatives for Dell Technologies  to commit to for 2030. We also solicited input from many of our leaders and conducted an external materiality assessment," she explained. "One thing that surfaced consistently across all stakeholder groups was the importance of ethics and privacy to our team members and customers."
The company's Chief Ethics and Compliance Officer, Mike McLaughlin, is fellow signatory of the Progress Made Real 2030 plan and owner of the new goals. "Integrity is in many ways table stakes," he said, "but it can never be assumed or taken for granted. It has to be emphasized in what we tell the world is important to us."
On top of that, Dell Technologies' other social impact goals—for example, to recycle or reuse an equivalent product for every one purchased by 2030—require a level of customer trust that only an ironclad commitment to ethics and privacy could produce. "We need our customers and partners to commit to returning out of service IT products, but customers have concerns over the data that sits on those old devices," Fraser said. "Since 2007 we have recovered 2B pounds of used electronics, maintaining our customers' trust by following strict data disposal standards. This track record, combined with the inclusion of ethics and privacy as a fundamental part of our plan and goals, lets partners and customers know they can trust us to deliver without compromising data privacy."
As for the decision to put a stake in the ground and make concrete commitments to ethics and privacy in the social impact report, Mike McLaughlin succinctly explained, "If something matters to you, you talk about it, and you measure it. Ethics and privacy matter to Dell Technologies."
How? The Digital Partner Program
Of course, it's one thing to say that ethics matter within your own company, and to say you will certify your own compliance processes with that standard. But Dell Technologies is going a step further. In Progress Made Real, Dell Technologies has stated that by 2030, 100% of the over 10,000 partners that Dell Technologies has a direct relationship with will demonstrate their commitment to the company's values.
As the Progress Made Real plan states, "We drive a high standard of responsibility in our partner ecosystem…[Dell Technologies] will provide our partners digital tools to assess and improve their own programs in order to meet Dell Technologies' expectations and evolving industry requirements."
How exactly does the company plan to do that? One strategy involves the Digital Partner Program.
Working with experts from Ethisphere, Dell Technologies ran a pilot of the Digital Partner Program with a few of its channel partners in the Latin American market in mid-2019. As Mike McLaughlin explains it, "The Digital Partner Program, which we are conducting in partnership with Ethisphere, allows our partners to upload the key elements of their ethics and compliance programs and have those elements digitally evaluated and a gaps analysis and improvement path identified when warranted. This allows us to reach many more partners in a timely, consistent, and cost-effective manner."
Eventually, Dell Technologies will encourage its partners operating in the highest risk environments around the world to participate in the Digital Partner Program. Obviously, any initiative on this level requires getting buy-in from the business leaders. For Dell Technologies, they were easy to convince. The company's SVP of Latin America Channel Sales, Alvaro Camarena, places a premium on his ability to attract and maintain ethical partners. As he said, "At the end of the day, the biggest competitive advantage we can all have is peace of mind." Setting a high bar allows Dell Technologies to attract partners who can and will want to meet it, kicking off what he calls a "virtuous cycle."
Streamlined and Feedback-Oriented
Rolling out the program in the Latin American market, given the spotlight on anti-bribery and corruption work there for the last several years, was a natural choice. At LTA-RH, Henrique Barcelos was eager to have his company, one of Dell Technologies' largest solution providers in Latin America, participate. "Compliance has been a business differentiator for us," he explains. "With the new anti-corruption laws, if you don't have a compliance program, you cannot sell to many states in Brazil. We have to be very ready and structured to sell in the public sector."
It also helped that LTA-RH found the Digital Partner Program extremely straightforward. Barcelos called it "very easy, very practical," and said the company had managed to compile the necessary documentation over a month ahead of schedule because of how streamlined it was.
Importantly for the partners, the Digital Partner Program is not a traditional audit, which Camarena says has a distinctly "negative meaning" in the region. Rather, he likes being able to approach companies saying, "We're interested in keeping the partnership with you, and we're going to work together on how to solidify and get 100% compliance on matters that are critical for us."
Best of all, the feedback from the Program is also immediately useable. "We implemented recommendations as soon as we received feedback," Barcelos said. "We updated our documentation internally, and had rounds of internal training." While LTA-RH had been strong on Brazilian compliance, Barcelos said that the recommendations were quite helpful in bringing the company's programs in alignment with some international regulations with which they were less familiar.
Now, Barcelos has mentioned the Digital Partner Program to other companies with whom he works as well. "Their jaws drop when I talk about it," he says. "They'll say, 'Oh, Dell Technologies did that for you?'" Most importantly for LTA-RH, other companies are now more eager to partner with him knowing that his compliance program has benefitted from this support.
Ethics as Value Proposition
Although Dell Technologies' commitment to championing ethics throughout its partner network will require significant investment, everyone involved is confident the commitment will pay dividends. Prior to her role as CRO, Chris Fraser held a variety of roles at both Dell Technologies and, prior to the merger, EMC. That background has given her a perspective that informs her conviction that the company's social impact goals move the bottom line. "Many of our customers and partners care about this, now more than ever. We have always understood that real progress requires deep alignment with our business priorities."
Mike McLaughlin agrees. "We win because of who we are and how we conduct ourselves, in addition to our world-class products and solutions." Elevating not only Dell Technologies' ethical commitments, but also those of their entire partner network, furthers that ethos. As he says, "Customers want to associate with companies that share their values, especially today where a company's brand and reputation are tied to all companies in their ecosystem."
For Alvaro Camarena in charge of Dell Technologies' Latin America channel business, the program's success will ultimately mean the partners take the reins. "Right now, we're bringing everyone up to speed. When we are successful, everyone will be 100% compliant, and they are looking for ways to innovate further." Eventually, that will put the regional corruption scandals of recent years firmly in the past. At that point, in Latin American economies, he hopes, "Just like in the movies, in the end the good guys win."
---
About the Author:
Tyler Lawrence is the Executive Editor of Ethisphere Magazine. He oversees the content of the print magazine, Ethisphere' special reports, and other publications, as well as magazine.ethisphere.com. He is deeply engaged in conversations about the purpose of the corporation in the 21st century, and how an ethical company should interact with its many stakeholders. He may be reached at [email protected]