As businesses continue to bring about rapid changes forced by the pandemic, the need of the hour is for compliance teams to proactively engage with the business and ensure that they adapt quickly for the new challenge.
Written by: Chandramohan Ramanathan, Vice President, Controls, Compliance, and Ethics, Diageo India
---
As the COVID-19 pandemic put the world in a tailspin in early 2020, organizations had to move quickly to ensure business continuity. At this time, organizations undertook rapid technology adoption and rewired their business processes to better fit with the new normal. Where some industries faced temporary closures, others saw employees moving to work-from-home, which resulted in meetings and documentation becoming virtual.
While health and safety was the top priority, compliance teams too needed to be on board with the changes that were underway within
the organization and the ecosystem. Seeing the changes in the environment, not just related to business models and technology adoption, but also regulatory changes, compliance teams had to be on their toes to preempt and manage risk, either internally by modifying polices and processes or externally by engaging with the regulators.
Building a Positive Compliance Culture
It is our firm belief that compliance is the bedrock of a sound business. This requires an organization to follow strict standards of governance and transparency, based on the compliance expectations of the industry—from money laundering, bribery and corruption, gifting, and entertainment, to sexual harassment and even communication. In fact, a whitepaper by Globalscape put the cost of non-compliance at 2.71 times higher than the cost of setting up a compliance culture in an organization.
As businesses continue to bring about rapid changes forced by the pandemic, the need of the hour is for compliance teams to proactively engage with the business and ensure that they adapt quickly for the new challenge.
At Diageo India, we place great emphasis on compliance, and hence we were in a better place to evolve as the pandemic-led change began to unfold. We introduced some new compliance initiatives and revisited several others that were not only innovative but also set benchmarks within the industry.
One such initiative is our Business Integrity Clinic. Under this program, the compliance team proactively reaches out to employees to listen to their queries and issues. Besides conversations related to the compliance domain, the team listens to employees share just about anything related to the changed work environment and added pressures, with the promise to sort things out within 24 hours. The initiative has been extremely well received and appreciated across the board.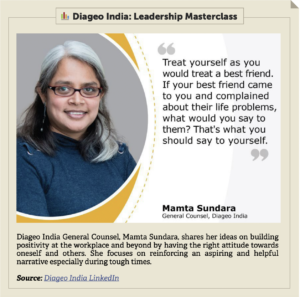 Working with diverse teams, we ensure that compliance is hardwired into the psyche of all who are even remotely a part of our organization. This has helped us create and nurture the right attitude and behavior across all segments of our workforce. As we entrust our reputation to them, we expect that they act in the best interests of not only Diageo but also of society.
Also, for the work-from-home staff, as face-to-face connections are no longer possible, the team has integrated technology into virtual trainings to keep our employees abreast of our company's compliance policies. Engaging and eyecatching presentations and trainings on the right ways to communicate in the social media environment and the acceptable professional norm while being on video for work have been shared with the employees. In fact, this initiative has been so well received across Diageo globally that the efforts of the compliance team in India received internal recognition.
An integral part of the compliance agenda is the Prevention of Sexual Harassment program, also known as POSH. While this initiative has already been in place, we have updated the training module to include acceptable and unacceptable practices in virtual meetings, Zoom calls, interacting on messaging, and social media. This has helped guide employees on what constitutes sexual harassment in the evolved workplace scenario and how to file a complaint.
As much as we believe that ethical leadership strengthens the team and business, we do not necessarily follow just a top-down approach when it comes to compliance. Even though a good leader is crucial in creating the right atmosphere for the team, every member of the team is eventually responsible for making compliance a success.
Our initiative "Path to Pride" has been launched with the objective of enabling middle management to take the lead in reaching out to the grassroots level in the organization. Multiple programs have been launched under this to empower middle management to talk about compliance.
Moving one step ahead is our Business Integrity Ambassador initiative. Here we create opportunities for our blue-collar employees to reach out to build their capability in compliance. Under this initiative, the blue-collar workforce imparts training to their white-collar counterparts, giving them a chance to lead and share the stage with their executives. This initiative too has been appreciated by everyone. Today, we have 50+ Compliance Ambassadors spread across all locations to reach across the organization in every zone. The reach of a local ambassador helped establish a better connection across the workforce, as there was more engagement and ownership
The journey over the last 18 months has not been an easy one, and the path forward will also be full of numerous challenges. However, compliance is a dynamic process that must support business decisions in real time and help organizations better understand and consequently mitigate risk to successfully navigate this crisis.
---
Recognition – Diageo India's BELA Impact Award
The 2021 BELA Impact Awards was established to honor BELA member companies and individuals who have shared a unique level of immersion and vision to advance community engagement, growth, and transformation. Among this year's recipients, Diageo was named, "Global Vanguards", which is designed to recognize BELA member companies showing exemplary leadership in expanding the reach of BELA and advancing our mission to meet the needs of a global compliance and ethics community. At the center of driving this mission in India are: Chandramohan Ramanathan, Vice President, Controls, Compliance, and Ethics; and Ms. Abanti Sankaranarayanan, Chief Strategy and Corporate Affairs Officer, Diageo India.
Watch the congratulatory video: https://youtu.be/2vIrnIVd8EU
About the Expert:
C. Ramanathan joined Diageo India in January 2008. He has over 20 years of experience in the field of finance across various verticals, which include plant finance head, commercial finance business partner, planner, and controller. In his current role, he is responsible for delivery of SOX and IFC requirements and focuses on building a culture that can make Diageo one of the most trusted and respected consumer goods companies. With Diageo India's role as a Founding Member of the BELA South Asia Chapter, Ram has been supporting and directing the work of the BELA chapter since 2018.