The year 2020 marks the 30th anniversary of the landmark passage of the Americans With Disabilities Act (ADA), which became law in 1990. The ADA prohibits discrimination against people with disabilities, building on the language and framework of the Civil Rights Act of 1964 to make disability status a protected class in the United States alongside race, religion, sex, and nationality.
People with disabilities and their allies around the United States will spend the year celebrating the milestone, and the myriad ways that the act has opened doors for and improved the lives of millions. Ethisphere, recognizing that one of the major frontiers for disability inclusion is the workplace, is proud to announce that we are working to incorporate disability inclusion as a metric for future iterations of the World's Most Ethical Companies®, in partnership with the advocates and experts at Disability:IN.
To understand the importance of inclusive workplaces in the lives of people with disabilities, and to see what inclusion looks like in practice, Ethisphere spoke with a variety of experts and advocates at Disability:IN alongside executives at several companies they have recognized as leaders on the Disability Equality Index.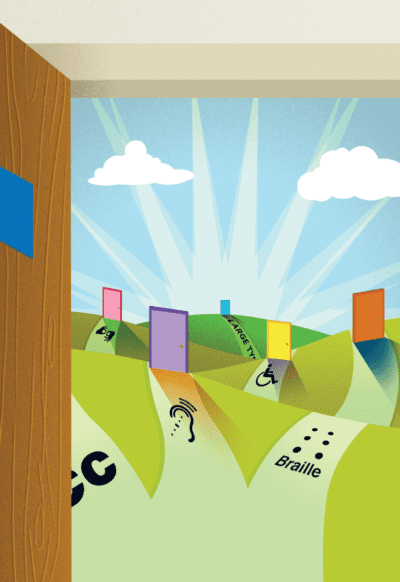 Disability:IN began its life as the US Business Leadership Network in 1994, as part of the President's Committee on the Employment of People with Disabilities. Several iterations later, it is now the leading advocate for business and the community of people with disabilities in the US workforce today.
The problems that Disability:IN seeks to address are pervasive. Despite the prohibitions on discrimination embedded in the ADA and decades of advocacy trying to dispel myths about the capabilities of people with disabilities, the labor force participation rate for people with disabilities remains 32.8% in the United States, compared with 77.8% for those without disabilities.
Most of that gap represents people with disabilities who would like to work, but have been kept out of the labor force by a system that sees disability as a far larger obstacle to employment than it actually is. There are many, many people with disabilities who would gladly work if given the chance. The trouble is, they often aren't.
Disability:IN exists, above all, to empower corporate America to facilitate disability inclusion and equality  by hiring, developing, and promoting more of the incredible untapped talent within the population of people with disabilities, helping their own bottom lines while they empower a community that has been fighting for decades for equal access. Most importantly, the organization also exists to change attitudes about the capabilities of people with disabilities.
Disability Inclusion as a Civil Right
The life of Ted Kennedy, Jr., disabilities rights attorney and Board Chair of the American Association of People with Disabilities (AAPD), has in many ways given him a front row view to the transformation in the movement for disability rights in the United States. The Kennedy family's advocacy for people with disabilities goes back decades, which Ted credits to his family's response to his aunt Rosemary Kennedy's intellectual disability, and included Eunice Kennedy Shriver's founding and lifelong patronage of the Special Olympics.
However, Ted's connection to disability is more personal still: he survived a rare childhood bone cancer that resulted in the amputation of his right leg. While, as Kennedy puts it, "my situation doesn't remotely compare to the types of challenges that other people with disabilities face," he still faced serious hurdles in his young life that informed his worldview.
One crystallizing experience was a lecture that he attended while in college by Judy Heumann (who now serves alongside him on the board of the American Association of People with Disabilities). In this lecture, Heumann framed disability inclusion—in the workforce and elsewhere—as a societal civil rights issue, rather than a personal challenge to be individually overcome. This framing revolutionized Kennedy's thinking and prompted his deeper involvement as an activist with various governmental and business-aligned group, including serving on President Ronald Reagan's Committee on the Employment of People with Disabilities.
Now, Kennedy pins part of the blame for the persistent jobs gap on old attitudes. "When I grew up in the 1960s and 70s, we thought of people with disabilities as objects of charity," he explains, "deserving of attention and money and nonprofit support. But the way that society tended to depict people with disabilities reinforced the idea that they could not perform on an equal level as their non-disabled peers." As such, people with disabilities were not integrated into society as a whole, kept from the educational system and ultimately, access to gainful employment and the independence that comes with it.
Kennedy attributes the shift in attitudes and organizing strategies over the last several decades to the examples of other notable civil rights struggles in the United States, particularly the movements for Black, women's, and LGBTQ civil rights. Their example prompted more and more people with disabilities to see discrimination against them as Judy Heumann did—as a societal, not personal, problem. The parallel in philosophy to the African American Civil Rights Movement is so strong that the preamble to the Americans with Disabilities Act, as Kennedy notes, "is lifted nearly word for word from the Civil Rights Act of 1964."
And just as with the Civil Rights Act, the passage of major legislation was both its own tremendous achievement, and also the beginning of the next phase of work. Activists and organizers had changed the law. Other organizations would have to be built to do the tough work of changing society. As the ADA's lead sponsor, Rep. Tony Coelho, said in a 1997 speech to business leaders, "I invite you to be part of this great enterprise. A lot of people, each doing their part, can create a powerful force for change." Disability:IN and AAPD have spent the subsequent decades helping the business community to bring about that change.
Many Programs, One Vision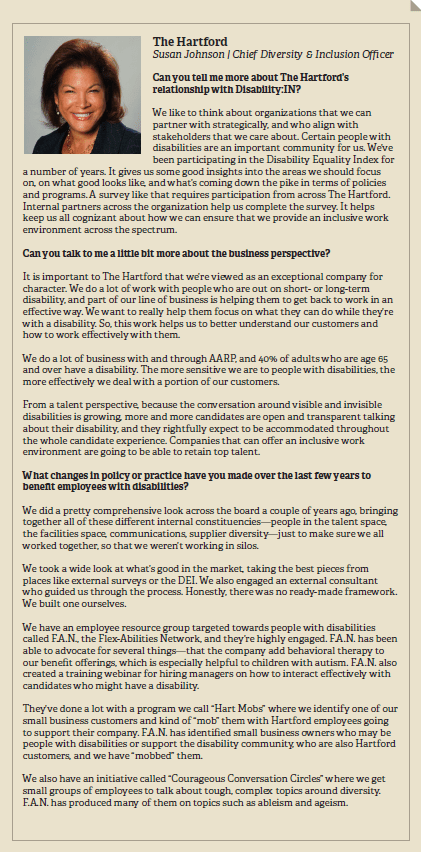 Disability:IN's work has expanded over the years, and they have allied with many other organizations. From the beginning, Disability:IN's advocacy has been strongly intersectional, drawing strategy from and building relationships with organizations advocating for civil rights for racial minorities, LGBTQ people, and other protected classes. Discrimination against people with disabilities in the workforce dovetails with difficult perceptions facing many other working populations, and the challenge of ensuring that companies are inclusive and not merely diverse is one that touches a whole range of groups.
Now, the nonprofit's team of experts and advocates, many of them people with disabilities themselves, sprawls between providing resources, defining best practices, maintaining a network of suppliers run by people with disabilities, and fostering the next generation of talented future leaders with disabilities.
Many of these various strands come together in Disability:IN's Inclusion Works program, which Director of Marketing and Communications Elaine Kubik describes as "our exemplary program, taking all of our programs and available tools and packaging them up for a community of corporations."
All of the participating companies, of which there are now 41 public members, convene twice a year to share best practices and learn from their peers. Although the programming covers a wide range of subjects—supplier diversity, leadership development, and more—the focus comes back to Disability:IN's most central goal: hiring more people with disabilities. According to Kubik, the organization has now facilitated the employment of over 40,000 people with disabilities, which she calls "a testament to the fact that our resources that these companies are using work."
The Disability Equality Index
Perhaps the group's most publicly visible initiative is the Disability Equality Index (DEI), a joint initiative with the AAPD. Explicitly modeled on the Human Rights Campaign's Corporate Equality Index for LGBTQ inclusion, the DEI was conceived as a tool for companies to benchmark their own progress towards disability inclusion, and a way to recognize those companies leading the way.
Now in its sixth year, the Index is constantly evolving, with questions added or adjusted to reflect the latest developments and to continue raising the bar. An advisory committee, composed of half advocates and half business leaders, helps to guide the Index's evolution. As the DEI's Director Becky Kekula puts it, "The advocate side wants us to make sure there were questions that businesses understood, and the business side can tell us what's reasonable for the time-being."
For Kekula, the idea that the Disability Equality Index should be a "carrot, not a stick" pervades its work. "We do not publish scores below 80," she explains. "We want to help guide business to get better, but not scare them away when it comes to disability inclusion." Top performers get recognized, and everybody gets a blueprint for how to do better. As Elaine Kubik puts it, "Everybody, every organization, every person, is on a journey in this space. There's still more to learn, and that's the beauty of it. At least these companies are starting."
That approach mirrors the way that Ethisphere runs the World's Most Ethical Companies recognition, with a public list of high-scorers and a benchmark available to all participants, which is one reason that the partnership is so exciting to both organizations.
Data Is Clear: Inclusion Correlates to Performance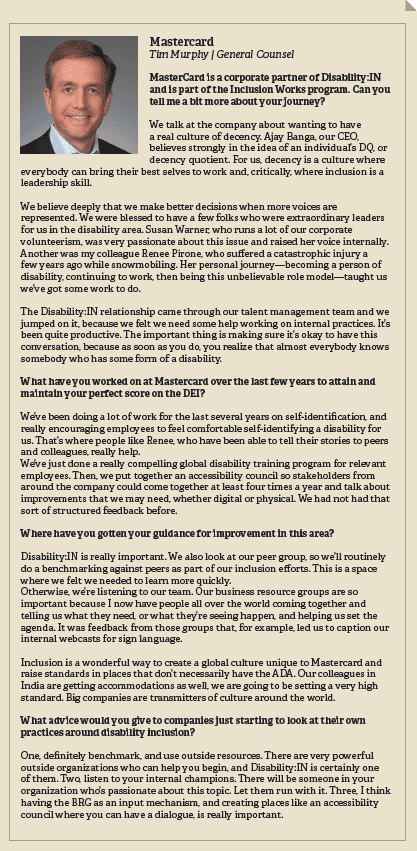 Disability:IN's thinking parallels Ethisphere's in another key way—the conviction that doing business the right way is also profitable. And, as with Ethisphere's data that the World's Most Ethical Companies outperform the market in the long run, Disability:IN has data to demonstrate that inclusive companies do better in the marketplace, too.
Of course, it's important to state that even if hiring and promoting more people with disabilities didn't correlate with performance, it would be the right thing to do. However, the data is clear on this fact, and that fact helps Disability:IN to more forcefully argue that inclusion, along with being a moral imperative, is simply something every competitive company ought to be working towards.
Until recently, the picture wasn't quite so sharp. Smaller studies of various sorts had been done, but a comprehensive overview of the relationship between disability inclusion and financial performance was lacking. To fill that knowledge gap, Disability:IN and the AAPD approached Accenture, the respected global strategy and technology consultancy, which also happened to be an Inclusion Works participant.
That partnership resulted in the publication of "Getting to Equal 2018: The Disability Inclusion Advantage." This persuasive, succinct report lays out the problems of unemployment and labor force participation facing people with disabilities, before pivoting to a comparison of the profitability and value creation by the top performers on the DEI (which the report aptly calls "Champions") versus a peer group of companies.
The results are stark. As the report notes, "Champions were twice as likely as others to have higher total shareholder returns than those of their peer group." [Emphasis in original] Even among companies that did not necessarily begin as Champions, improving scores over time on the DEI also correlated to stronger performance, with "Improvers" being four times more likely to outperform peers than non-Improvers.
The report goes on to examine the exact mechanisms for this improved performance, dissect the barriers that companies identify to better inclusion, and outline strategies for more positive engagement. As Disability:IN CEO Jill Houghton says, "Disability inclusion provides businesses with a great opportunity to improve their bottom lines, while fostering innovative workplaces that benefit from different perspectives."
Investors Commit to Inclusion
The latest strategy that Disability:IN and AAPD have pursued to help convince the private sector of the importance, and feasibility, of widespread disability inclusion may ultimately be the organization's most consequential.
The data from the Accenture report correlating disability inclusion with financial performance opened the door to a provocative argument: that institutional investors acting as responsible fiduciaries must take disability inclusion into account, since it so clearly correlates with better financial returns, making it of material concern to investors. To that end, in May 2019, a group of investors spearheaded by New York State Comptroller Thomas DiNapoli and Oregon State Treasurer Tobias Read released the Joint Investor Statement on Corporate Disability Inclusion.
The rationale for pushing companies on this issue was clear, according to Comptroller DiNapoli: "Disability inclusion provides businesses with a great opportunity to improve their bottom lines, while boosting diversity and innovation. We want to know that our investment dollars are being used to maximize a company's potential and long-term profitability." Tobias Read agreed. "Companies that embrace disability inclusion in the workplace benefit from increased innovation as well as profitability," he said.
As of January 2020, additional investors have joined the initial group, and the signatories now represent over $2.1 trillion worth of assets under management. Although public comptrollers and pension systems predominate among the signatories, several major private companies stand out on the list, including Voya Financial and Bank of America. Voya's Chairman and CEO, Rod Martin, said, "Disability inclusion—everywhere, including the workplace—is good for our customers, our employees and society."
Signatories of the Statement endorse a range of best practices in disability inclusion, and state a belief that their portfolio companies ought to follow those practices. Highlights include that companies should "Establish a public, company-wide hiring goal for people with disabilities and measure progress on achieving that goal;" and that they should, "Develop a supplier diversity program to include Disability-Owned Business Enterprises."
Going forward, Disability:IN hopes that continued efforts will convince even more investors to sign on to the Statement. At this point, they see that many investors remain hesitant for the simple reason that they worry that their own internal practices aren't yet up to par. To that concern, Kubik simply responds, "At least you'd be starting."
Anniversary, Opportunity
Looking forward into 2020 and the commemoration of the 30th anniversary of the ADA, the Disability:IN team sees a few trends for inclusion continuing this year. Elaine Kubik predicts, "There's going to be a big push for digital accessibility, including software applications and other technologies, be accessible to and usable by all, including people with disabilities. CEO Jill Houghton agrees, saying, "The front door is now digital and accessibility is not achieved by passing a single test; if technology and content is not usable, it is not accessible."
Above all, Disability:IN remains laser-focused on empowering business to build an inclusive global economy where people with disabilities participate fully and meaningfully. Given the ongoing economic expansion that continues to pull in people from the sidelines of the workforce, there has never been a more opportune moment for their advocacy. "In encouraging people to come off the sidelines," Kubik says, "what we're trying to do is also raise the profile of our corporate partners as inclusive brands, a signal that this company is more likely to offer accommodations, or ensure their internal tools are accessible."
In no small part thanks to the work of the tireless advocates at Disability:IN, there has likely never been a better time to be a person with a disability in the workforce, although of course much work remains to be done. The moral and economic arguments have aligned. Now, companies must step up to meet the challenge.
---
About the Author:
Tyler Lawrence is the Executive Editor of Ethisphere Magazine. He oversees the content of the print magazine, Ethisphere' special reports, and other publications, as well as magazine.ethisphere.com. He is deeply engaged in conversations about the purpose of the corporation in the 21st century, and how an ethical company should interact with its many stakeholders. He may be reached at [email protected]