Joseph Jimenez, CEO for Novartis discusses how large global companies can plan for a new professional culture.
By Joseph Jimenez
As a society, we are on the cusp of a transition to the most global, complex, multi-cultural and multi-generational workplace ever experienced. Millennials, or the "Generation Y" born from 1982-2000, are driving this change as they become a dominant segment of the workforce. By 2020, they will comprise half of all employees worldwide

[i].

[i] PwC, "Millennials at work: Reshaping the workplace," 2011: https://www.pwc.com/en_M1/m1/services/consulting/documents/millennials-at-work.pdf

The modern-day global workforce, especially the Millennial generation, wants to work for a company they believe in. According to the 2015 Deloitte Millennial Survey, 60 percent of Millennials identify a "sense of purpose" as part of the reason they chose to work for their current employers[i]. Today, a company's values are its right to existence. More than ever before, what a company stands for and the impact it makes on society will determine its success or failure. Research has shown that mission-driven companies have 30 percent higher levels of innovation and 40 percent higher levels of retention[ii].

As CEO of Novartis, one of my top priorities has been connecting our employees to our values, which are the foundation of our culture. Our values guide the choices we make every day and determine the success of our company. They are the foundation of our performance management process, and are embedded into every aspect of how we operate, from encouraging a "speak up" culture to advocating for integrity across the healthcare industry.

Companies can work to foster employees' connection to their values through programs that resonate on a personal level. We have put in place efforts that strive to make our values and mission relevant to individuals across the organization. Our values should be part of the way we work every day. That is why at Novartis, we launched Long Live Life, a program that engages Novartis Group company employees in our values and mission by asking them to share images, stories, and ideas of how they're fighting every day to help people overcome health issues and lead more normal lives.

During its first year alone, more than 80 percent of our employees visited the Long Live Life website, sharing more than 7,600 photos, receiving over 176,000 votes from 106 countries. In giving employees an open platform to voice and discuss their ideas, we've developed a foundation for working together across continents, divisions, and levels.

We've seen that our associates are passionate about the impact Novartis makes on society, and are particularly interested in our efforts in their local communities as well as in areas where people desperately need help. We've experienced overwhelming responses from associates around the world when we talk about topics such as healthcare delivery in Africa. Both on a blog I wrote about my visit to Africa last year and in an Ideas Jam we hosted asking associates to discuss opportunities for growth in emerging markets, employees expressed a passion to help increase access to healthcare in remote areas, and the importance of partnering to help shape healthcare systems and deliver more resources to African communities.

Engaging employees, where company values and issues people care about personally meet, plays an important role in employee retention, especially for Millennials. Because Millennials tend to be highly ambitious and flexible, they are more likely to switch companies frequently. In a recent survey of US employees, 47 percent of Millennials said they were likely to look for a job in a different organization dependent on the market, compared to just 36 percent of Baby Boomers[iii]. Research supports greater employee retention at companies where people believe they are part of a values-based culture. Fifty-seven percent of companies where Millennials feel a strong sense of purpose report a high level of employee satisfaction, compared to just 23 percent of companies where employees do not feel a strong sense of purpose[iv].

Another way to instill a sense of purpose among employees is through programs that develop leaders with the kinds of values that will play a significant role in company performance. In the US alone, 50 percent of Millennials feel that training and development can demonstrate their company's investment in their future[v], and are 20 percent more engaged when they see positive, ongoing management of employee engagement[vi]. To address this among Novartis' over 120,000 employees worldwide, we've developed strategic initiatives that demonstrate long-term investment in our employees as key leaders in the future of the company.

For instance, retaining top Millennial talent is a business-critical issue today in emerging markets, where the fight for top talent is especially intense. The talent pool in these regions is ambitious, and 65 percent of Millennials in emerging markets say they aspire to reach a leadership position in their organization[vii].

As CEO, I've personally driven our Leadership Excellence And Discovery (LEAD) initiative, a development program for top talent in emerging markets. The LEAD program helps future leadership develop their skills outside of scientific excellence through opportunities like mentorship programs. This is something I feel strongly about, as mentors have influenced me throughout my career. The millennial generation represents our future leadership, and it's important to both train them in a values-based culture and give them opportunities to develop their skills.

As the workforce evolves and becomes more complex, large global companies need to plan for a new professional culture. At its core, the key to engaging the rapidly evolving workforce will be defining and clearly communicating a values-based culture and designing organizational models that give all employees opportunities to align with the company mission.

Author Biography:

Joseph Jimenez has been Chief Executive Officer of Novartis since 2010. Under his leadership, Novartis has developed one of the largest pipelines of self-originated drugs in the industry, driven by a commitment to R&D investment. Mr. Jimenez has also transformed the company's portfolio to focus on leading businesses with innovation power and global scale in pharmaceuticals, eye care, and generics.

Mr. Jimenez is a member of the Board of Directors of General Motors Company. He graduated in 1982 with a bachelor's degree from Stanford University and in 1984 with a Master of Business Administration from the University of California, Berkeley.

[i] Deloitte, "Mind the gaps: The 2015 Deloitte Millennial Survey," 2015: http://www2.deloitte.com/content/dam/Deloitte/global/Documents/About-Deloitte/gx-wef-2015-millennial-survey-executivesummary.pdf

[ii] Deloitte University Press, "Becoming irresistible: A new model for employee engagement" by Josh Bersin, Deloitte Review Issue 16, January 2015: http://dupress.com/articles/employee-engagement-strategies/?id=us:2sm:3li:dup998:eng:dup:022315:longform

[iii] Gallup, "There's a Generation Gap in Your Workplace" by Susan Sorenson and Keri Garman, August 6, 2013: http://www.gallup.com/businessjournal/163466/generation-gap-workplace.aspx

[iv] Deloitte, "Mind the gaps: The 2015 Deloitte Millennial Survey," 2015: http://www2.deloitte.com/content/dam/Deloitte/global/Documents/About-Deloitte/gx-wef-2015-millennial-survey-executivesummary.pdf

[v] The Hartford, "The Future of Leadership By the Numbers," July 2014: http://www.thehartford.com/sites/thehartford/files/millennial-leadership.PDF

[vi] PwC, "The keys to corporate responsibility employee engagement," February 2014: http://www.pwc.com/en_US/us/about-us/corporate-responsibility/assets/pwc-employee-engagement.pdf

[vii] Deloitte, "Big demands and high expectations: What Generation Y wants from business, government, and the future workplace," January 2014: http://www2.deloitte.com/content/dam/Deloitte/global/Documents/About-Deloitte/gx-dttl-2014-millennial-survey-report.pdf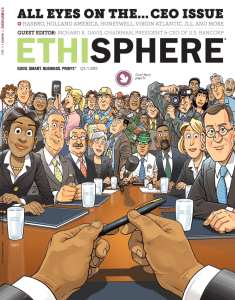 This article was featured in the Q3 2015 issue of Ethisphere Magazine. To subscribe and learn more about Ethisphere Magazine click here.