We're all in this together, and together we can drive meaningful change. For many, this hopeful statement may fall flat, and for good reason. Many have had to endure lifelong injustice and bias. This pain magnified by recent events is enough to discourage even the most strong-willed. But, in talking with a few senior leaders from a range of organizations, it is that very pain that has fueled them to push for change—change they believe now more than ever will have greater, lasting impact.
Our journey began with the launch of Ethisphere's Equity and Social Justice Initiative. At Ethisphere, we work with companies to advance business integrity. Diversity, inclusion, and equity are central to integrity and we knew we needed to bring a voice to this issue.
The first step was to assemble an advisory council of industry leaders who are already at the forefront of advancing diversity and inclusion within their organizations and communities. David S. Huntley, SEVP and Chief Compliance Officer of AT&T, stepped up to be Chair of the Advisory Council. In his words, "Standing for equality is both a moral and business imperative at AT&T. This initiative offers the opportunity to join with other leaders to share best practices and brainstorm new ways to advance equity through empowered workforces and communities."
The Advisory Council Listening Tour
As a starting point, we spoke with members of our Advisory Council to hear their perspectives. They spoke of three areas where change can occur:
Inside the company. Actions could include mentoring, the support of Employee Resource Groups (ERGs), increasing transparency, and sharing data on diversity and other trends;
The company in the community. Companies could engage in lobbying, working with Historically Black Colleges and Universities (HBCUs), and advancing volunteerism, among other activities; and…
Individual actions within the company and community. Many are looking at manager training and preparedness, and providing ways for employees to get involved.
Many advisory council member companies have already taken actions that have made a difference. Following are key themes and examples. You can view examples on the Equity & Social Justice page located at ethisphere.com/equity.
Companies are turning to employees who have been impacted by social injustice and asking them to share their stories. The result is so compelling. A few examples: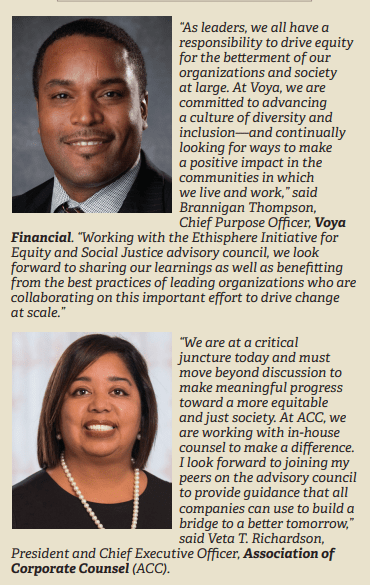 Mentoring and Training
Many advisory council members mentioned mentoring—and not just Black execs mentoring Black employees, but everyone figuring out how to be comfortable mentoring everyone. A few ideas:
Prepare managers. Focus on making sure that managers are comfortable providing constructive feedback to their direct reports of all genders and races. The focus here should be not just on this concept, but how to do this.
Provide inclusivity training. Work not just on giving feedback but receptivity to feedback.
Give feedback without fear. Trust your organization to stand by a fair review.
Metrics and Transparency
Companies are considering ways to collect and share diversity and inclusion data, and metrics on topics such as pay equity. AT&T is a leader on transparency and shares its data in an annual Diversity & Inclusion Annual Report.
Effective Employee Resource Groups (ERGs)
ERGs – voluntary, employee-led groups focused on diverse, inclusive workplaces and aligned to organizational goals – are increasingly popular today. To help ensure success, many companies are providing resources such as budgets, executive sponsors of all races, and visibility across the organization. Some are also making ERG participation part of an employee's promotion and performance track.
This article is part of a series for the Ethisphere Equity and Social Justice Initiative, convened to share leading practices, resources, case studies, conversations, and shared experiences from global companies and leaders.
Deliverables for the Initiative
In the coming months, Ethisphere will hold a Forum featuring leader conversations and case studies. The Forum will be recorded, and sessions will be available on at Ethisphere.com/equity.
The Ethisphere Initiative for Equity and Social Justice is also focused on:
Developing a framework for companies to benchmark their initiatives, share metrics with stakeholders, and close the opportunity gap.
Identifying, codifying, and sharing leading practices that corporations can take to advance equity for people of color.
Leveraging Ethisphere capabilities and competencies, including platforms, Ethisphere Magazine, a microsite, and programs to share insights on equity.
Convening an ongoing series of multi-disciplinary conversations and making them available to the public at large.
We will conduct the Forum and these activities in collaboration with our Advisory Council, members of our Business Ethics Leadership Alliance (BELA), and key partner organizations. To learn more about the Initiative, visit https://ethisphere.com/what-we-do/equity-and-social-justice/. To register for the forum, visit https://events.ethisphere.com/events/equity-and-social-justice-forum/
---
About the Expert:
Erica Salmon Byrne is the Executive Vice President for Ethisphere, and is a Sponsor of the Ethisphere Equity & Social Justice Initiative. She has responsibility for the organization's data and services business and works with Ethisphere's community of clients to assess ethics and compliance programs and promote best practices across industries. Ms. Salmon Byrne also serves as the Chair of the Business Ethics Leadership Alliance; she works with the BELA community to advance the dialogue around ethics and governance, and deliver practical guidance to ethics and compliance practitioners around the globe.
Joy Yurcaba is a Sponsor of the Ethisphere Equity & Social Justice Initiative, and an Administrative & Accounting Specialist here at Ethisphere. This includes AR, AP and general bookkeeping. She comes with over five years of experience managing AR departments including local Inc 500 company Flex Print Inc. Using both her background in accounting and retail management she works with small businesses to streamline accounting departments and identify ways to increase cash flow.