At Realogy, integrity is a core value. We view our commitment to integrity not just as the right thing to do, but as a critical component of our company's success. As we continue to move forward, we are focused on enhancing our ethics & compliance program through defined measurements and metrics.
So how does a company go about measuring a value like integrity? First, you need a plan. As the old saying goes, "plan your work, and then work your plan." In my experience, the best plans include a disciplined assessment process that measures progress against goals, and allow the flexibility to make changes to adapt to new data and trends. Planning and measurement are as important in establishing an ethical culture as they are in developing and executing a financial plan. We have a number of metrics that we use to manage risks related to ethics and compliance, among them:
Enterprise Risk Management – We take a rigorous and disciplined approach to ERM at both the individual business unit and corporate level. We actively track our progress and monitor risk trends in a select number of categories most relevant to our business.
Training and Certification – Our employees must certify annually on our Code of Ethics training, which includes an industry-specific focus on the Real Estate Settlement & Procedures Act (RESPA), among other topics. Each year we add new custom content that reflects the most current trends and business issues faced by our industry.
Read more in the Q3 issue of Ethisphere Magazine.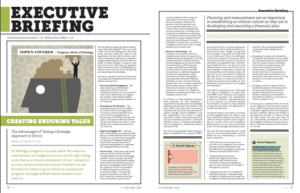 About the Author
Richard A. Smith is Chairman, CEO and President of Realogy Holdings Corp. (NYSE: RLGY), a global leader in residential real estate franchising with company-owned real estate brokerage operations as well as relocation, title and settlement services. Realogy's renowned brands and businesses include Coldwell Banker, CENTURY 21, ERA, Sotheby's International Realty, Better Homes and Gardens Real Estate, ZipRealty and the Corcoran Group, along with NRT, Cartus, Title Resource Group and ZapLabs, the company's innovation and technology hub. Click here to view Smith's full bio.