Ethisphere Integrity Partner EY is proud to announce the release of their Global Integrity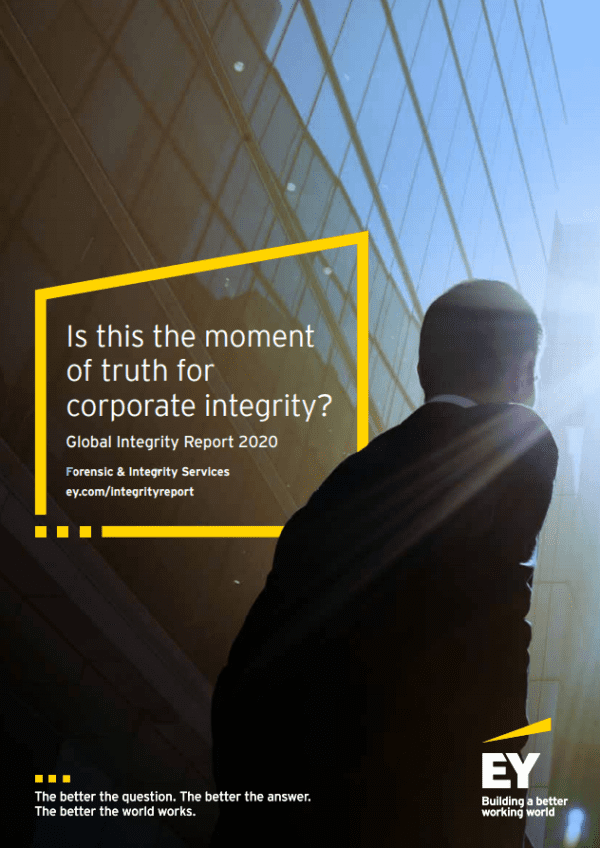 Report 2020: Is this the moment of truth for corporate integrity?
The COVID-19 global pandemic has shocked the world, impacting life for families, communities and organizations on every continent. Amid the turmoil, businesses and governments are faced with new and significant decisions that pose difficult ethical dilemmas that will affect their future viability and success.
Our research reveals timely insights from business leaders on the myriad of ethical challenges facing organizations, both in the lead-up to and at the height of the COVID-19 crisis.
Between January and February 2020, we interviewed almost 3,000 employees, from the board to the shop floor, of organizations in 33 countries and territories worldwide. In April 2020, we interviewed a further 600 respondents, with the same profile across six key countries that were most impacted by COVID-19.
Our research also shows a concerning disparity as to the perceptions of ethical behavior at different levels of seniority within organizations. The majority of junior employees interviewed say that they don't always trust the integrity of their leaders, while the majority of board members believe they play by the rules.