Bob Shanks is Ford Motor Company's Executive Vice President and Chief Financial Officer. In the following article, he discusses opportunities facing the company and the industry.
There are a few constants in life. The sun rises and sets. The moon revolves around the earth. And once a week, early in the morning, each member of the Ford Motor Company global executive team gathers in Dearborn, Michigan to connect with leadership around the globe to assess the risks and opportunities facing our company and the industry.
We call it our Business Plan Review. It has sustained our company through the Great Recession and keeps us focused on innovating and manufacturing great vehicles. It has also allowed us to strengthen the core parts of our business as we work to capitalize on emerging opportunities in electrification, autonomy and new mobility services that will define the next century of transportation. Critical to this process is a commitment to transparency, honesty, and clarity throughout the business.
It Starts at the Top
At Ford, that commitment starts with Bill Ford, our Executive Chairman, and Mark Fields, our CEO. I have known Mark since our time at Mazda in Hiroshima, to our European operations in London, to now in Dearborn. He is a leader who is grounded in facts and believes in honesty and transparency above all else.
He models these values every day. Under Bill Ford's leadership, we have had the honor of being named to Ethisphere's World's Most Ethical Companies list for seven years in a row. While we are a global company with more than 200,000 employees, it still feels very much like a family business. The same sense of transparency, honesty, and clarity drives our communication with the investment community.
Full story available here.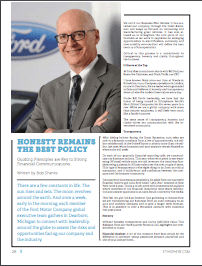 About the author
Bob Shanks was named Ford Motor Company's Executive Vice President and Chief Financial Officer effective April 1, 2012. Shanks has overall responsibility for the company's financial operations, including the Controller's Office, Treasury and Investor Relations. He also oversees Ford's global data and analytics team.