Lessons from the Frontlines of Ethics & Compliance
By Nicole Thomas
Hired in 2004 as the Metropolitan Transportation Authority's (MTA's) first Chief Compliance Officer, Lamond Kearse was entrusted with establishing the policies and programs governing North America's largest transportation network, serving more than 15 million people. He reveals what he's learned about building, maintaining, and constantly improving the compliance function at such a diverse, high-profile, and dynamic round-the-clock operation.
Describe a typical day in the life of Lamond Kearse.
LK: First, there is no such thing as a typical day. Often the course of my day is determined by what call has come in through the Ethics Helpline or what issue is being raised by MTA employees or external sources.
As you can imagine, since the MTA is a 24-hour-a-day/7-days-a-week operation, my day begins very early. I usually start answering emails before I get to my breakfast table. However, I try to spend a little time reading the various news organizations that cover our service region. I believe that a good compliance officer needs to be aware of the events occurring in the regions in which they operate. On a good day, I would then spend time reviewing a series of status reports generated by staff and our GRC systems, such as internal control testing status reports, policy lifecycle reports, ethics inquiries aging reports, and so forth.
Of course, there are the never-ending phone calls, meetings, and emails. As CCO, I believe it is important that I am accessible by all levels within our organization.
What projects are you and your department working on these days?
LK: We are working on enhancing our training and communication programs. We are especially interested in looking at gamification as an additional learning technique. By utilizing new and innovative training techniques, we hope to reach segments of our employee base in ways they may find more engaging.
What are the special challenges of a compliance-based role with one of the largest transportation authorities in the world, where so many people rely on your services daily?
LK: MTA operates in a highly visible, extremely complex environment in which compliance is called upon to wear multiple hats. Even the smallest employee compliance issue can have major significance to this organization and the customers we serve. Issues that would not warrant a second look in most organizations become a major news story for us.
In order for the MTA to operate, it takes an enormously talented and diverse workforce. We employ engineers, computer programmers, architects, lawyers, doctors, and even artists. These individuals represent the cultural diversity that is New York. While this is truly one of our strongest assets for compliance, conveying our message across the cultural divide can be a challenge.
What qualities or values make the MTA's program and corporate culture unique?
LK: When it comes to compliance, I am sure our core values are very similar to those of most organizations: integrity, accountability, compliance, and transparency. One of the things that we do differently than most organizations, that I am aware of, is that compliance is responsible for many of MTA's key regulatory disclosures, including our annual report.
As the first Chief Compliance Officer at the MTA, you created this role from scratch back in 2004. How did you set about building your department and what tips can you offer to industry peers who are just beginning to establish their own programs?
LK: I started by wearing out a lot of shoe leather. Too many first-time compliance officers start building their program on a foundation of policies and memos. In order to build an effective program, you have to build it on a foundation of relationships with all of your stakeholders, especially the business units. I spent the first several months talking to our employees about how they perceived our ethical state of health and what areas they thought we should focus on. I spoke with managers and non-managers to get a better picture of the organization and where I could be most effective.
It is also imperative that I have the support and trust of our chairman and the board. As CCO, I am often called upon to make value judgments in the best interests of the organization in those gray areas that all compliance officers know all too well. Without a foundation of trust, my job would be very difficult, if not impossible.
The best advice I can give someone just starting out is probably something they may have heard from their parents: "You're eating too fast; take smaller bites." Don't go too fast; you need to create a strategic plan based upon where your organization is now and where you want it to be five years from now. But make sure you write in pencil, because that plan will need constant adjustment.
Don't assume you have to do it all alone. If you are just starting out, look for those areas where you can partner with existing functions like internal audit, HR, IT, marketing, and legal. These areas have provided me with endless amounts of support and insight.
I would also recommend networking with other compliance professionals. Anyone coming into this field for the first time will be amazed at the willingness of this community to share information and give advice.
What lessons have you learned over the past decade, and what do you wish you had known when you started this position?
LK: One of the things I have learned is that to build an effective compliance program requires a diverse team. Speaking with my peers, I think many compliance programs headed by lawyers or people with legal backgrounds tend to only hire employees with similar backgrounds. Having worked at the SEC, my initial tendency was to look for people with a similar background. However over time, we have diversified; my team now has employees with accounting, HR, and, most recently, training expertise.
What skill sets are required to communicate the compliance message to such a large and diverse workforce, and how do you keep staff engaged on a consistent basis?
LK: We use a variety of tools to communicate our compliance message. The most important aspect of what we try to do is to keep it short and focused. I believe that employees can become overwhelmed by lengthy compliance memorandum (death by a thousand memos). While there are times when you have to send out memos with a level of detail that cannot be condensed, it is important to realize that you may only have employees' attention for a short period of time. Make it count.
We also dedicate one day a month to ethics and compliance. Our internal communications are focused on an ethics or compliance issue, and we often use humorous videos to get our employees' attention and frame the issue.
What are your biggest challenges currently, and are there any trends emerging that may pose heightened risks going forward?
LK: The biggest challenge continues to be keeping up with a constantly changing regulatory environment with increasing levels of complexity.
What initially influenced you to enter the field of law?
LK: I started out at the Securities and Exchange Commission's enforcement division. When I came out of school, it was a period in time when the SEC was pursuing some of its most high-profile insider trading cases from a historical perspective.
How did your background—personal and professional—prepare you for this role?
LK: I believe a successful compliance officer must be able to communicate across the organization, whether in the boardroom or in the field. They have to be willing to listen, but know when to speak. Throughout my career, I have had the good fortune of working with some truly talented people who have acted as mentors and been willing to share their knowledge and experiences.
If you weren't working in ethics and compliance at the MTA, what would your dream career be?
LK: I would be the highest paid scuba diving instructor in the Caribbean.
What's the worst job you've ever had?
LK: I worked on the grounds crew in college helping clear out a swamp. However, you make some very good friends when you're knee deep in mud, and you learn to depend on others.
What issues keep you up at night?
LK: With the recent cases regarding CCO liability, I spend more time worrying about the unknown and what effect it may have on our compliance program. As with many compliance programs, there are many components of our program that I may not have regular direct insight into.
It's like that Twilight Zone episode "Nightmare at 20,000 Feet," in which William Shatner warns the flight crew that there is a gremlin destroying the wing of the plane, but they do not believe him. I wonder if there is a gremlin out there damaging our compliance program. Where is William Shatner when you need him?
What keeps you motivated?
LK: When you get that one phone call or email from an employee who was facing an issue saying thanks.
What do you do outside of the workplace for enjoyment?
LK: Swimming and reading.
Author Biography:
Lamond Kearse joined the Metropolitan Transportation Authority (MTA) in 2004 as their first Chief Compliance Officer, establishing a corporate compliance department to manage the organization's governance, risk, and compliance programs. In this role, he advises the Board of Directors on corporate governance, ethics, internal control, and compliance issues, including financial and other reporting requirements. Mr. Kearse has also worked in the enforcement division of the United States Securities and Exchange Commission. He received his BS from Francis Marion University in Florence, South Carolina, and a JD from Boston University School of Law in Boston, Massachusetts.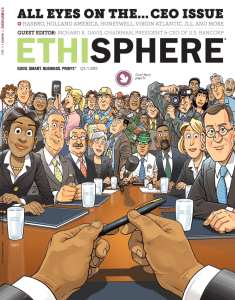 This article was featured in the Q3 2015 issue of Ethisphere Magazine. To subscribe and learn more about Ethisphere Magazine click here.