At the beginning of 2021, we modified some of our people policies to make them more inclusive to benefit all of our people equally. Our people with disabilities were also equipped to effectively work from home with the right technology and tools.
Written by: Rajeev Chopra, Managing Director – Legal, Accenture in India, and Head of Legal for Accenture Global Delivery Centres
---
The pandemic has disrupted the way we live and work at an unprecedented scale. When the pandemic unfolded last year, organizations across the world had to rapidly switch to remote working amidst the global health crisis. This massive workforce transition, enabled by digital technologies, also brought with it changes in workforce expectations, and all leaders need to recognize and be prepared to meet these.
Last year, we researched what employees look for from their organizations and found that at a time when several usual freedoms are restricted, people fundamentally need to feel they are empowered to do what is necessary to keep themselves and their families safe and well. They need flexibility to work differently. Consecutive hours of uninterrupted work may not be feasible, as many people deal with disrupted elderly care and childcare, difficulties in securing essential supplies at home, and potential healthcare issues. Secondly, people need consistent, transparent, and clear communication from leadership at all levels. Finally, they need to feel that the organization has a larger purpose that they can relate to and connect with.
At Accenture, we've made significant investments to provide our people with an environment that meets these needs and helps them thrive.
For example, at the beginning of last year, we developed a comprehensive range of tools and new programming to support and guide our people and keep them informed and connected during the pandemic. Our "More Together Now" program provided helpful advice, tips, and guidance to support our people in juggling work time and personal time in new ways. We focused on leveraging technology while creating more personalized solutions that put people at the centre and transform their overall experience.
To help our people who are parents and working from home, we hosted virtual summer camps that provide parents with resources to keep young children constructively engaged. We ensured that our people with disabilities were effectively enabled to work from home with the right technology and tools. We also enhanced our existing wellness initiatives to help our people adapt to a disrupted work environment. In addition to a 24/7 employee assistance helpline, our virtual training sessions include resources for building mental resilience to help our people cope with the stress that could be created by physical distancing.
We also expanded the use of an AI-enabled chatbot to provide mental health self-assistance techniques and access to mental wellness experts. Through this crisis, we forged ahead with our intentional approach to equality. In 2020, Accenture accomplished its global commitment to growing the percentage of women Managing Directors at Accenture to 25 percent, which is a part of our overall commitment to have a 50:50 workforce by 2025. At the beginning of this year, we modified some of our people policies to make them more inclusive and benefit all our people, equally. Our new leave policies—such as maternal, paternal, adoption, and surrogacy leaves—focus on the importance of caregiving instead of gender and marital status.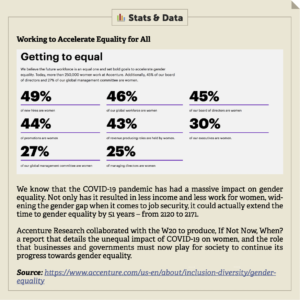 When the devastating second wave of the pandemic struck in 2021, our teams rapidly mobilized several resources, including telemedicine services, testing support, care-at-home and quarantine services, enhanced insurance coverage, mental health support, and vaccinations to support our 200,000+ people and their families in India. Dedicated teams stayed in constant touch with our people and helped them when they or their dependents tested positive for COVID-19. We also introduced leave options for our people to take care of their family members who have tested positive.
Investing in learning and development has always been a focus, and we spend close to USD 1 billion on training globally every year. Skill-building initiatives have gained greater attention as the demand for digital skills increased throughout the pandemic, and we are providing our people with learning opportunities that are both immersive and personalized. One such learning initiative that we introduced was the Technology Quotient training to help make employees across roles, including those in non-core technology roles, conversant with new technologies like the cloud, AI, dev ops, agile, and blockchain.
Enabled by digitalization, industries are looking at a hybrid future of work, and it is essential that leaders be prepared for this future. Fostering a culture of trust and collaboration, caring for people's wellbeing, ensuring continuous learning, and driving equality will be key to engagement for the future, and leaders.
---
About the Expert:
Rajeev Chopra is Managing Director – Legal responsible for legal support to India, Philippines, Bangladesh, Sri Lanka and Global Delivery Centres. In this role, he leads a team that provides cross-domain expertise for various areas of law and risk mitigation including compliance, operations, regulation and ethics for each of these markets, and has also led several complex organizational restructuring projects. Recent accolades include:
Business World top 100 GCs of India in 2021
Legal Era's General Counsel of the year – South East Asia region in 2021
Legal Era as "Inhouse Legal team of the year – Innovation, Strategies and Continuous Growth" in 2021
Biz Integration in association with SILF for "Outstanding Performance of the year" in 2020.