Scott Harrison, CEO of charity: water explains how access to clean drinking water can improve—and save—the lives of women and children in underprivileged nations, and how business leaders can help.
By Scott Harrison
From a young age, Letikiros Hailu seemed unwilling to accept the fate of an ordinary girl's life in Meda, Ethiopia. Her friends and neighbors described her as visionary and unique. She was bright. She was beautiful. She was clever.
Like all girls her age in Meda, most of Letikiros' time was spent walking and waiting for water. Her first walk was at eight years old, and her life would change forever after that moment. She'd now get up early four days a week, grab her clay pot, tie it to her back with a rope, and head to the water source to do her part for the family.
Arliew Spring was the closest source to home, but it involved a dangerous and steep climb down a 700-foot cliff. The rocks were loose and slippery, and women had been known to fall to their death on this path. Only enough water seeped out of the rock to fill a few clay pots every hour, and the source was shared at night by monkeys, whose excrement surrounded the area.
Often, Letikiros would arrive at the spring and wait up to eight hours for her turn. Sometimes, she'd find the line of pots and women so long that her walk down would be in vain, and she'd climb back up the hill and head even farther to the Bembya River for water instead.
On May 19, 2000, Letikiros Hailu set out before dawn for Arliew Spring. She didn't eat breakfast, probably thinking she'd arrive at the spring before most of the others and have a shorter wait. May is the hottest and driest month in Tigray, and when she joined her friend Yeshareg on the path, they traveled together down the treacherous hill.
Upon reaching Arliew Spring, they quickly found out they weren't the only ones who had the idea to leave before dawn. They waited in line all day before filling up their pots and heading back up the cliff together. They reached the peak around 3pm and, at the place where the road forked, Letikiros said goodbye and took a right towards her house. It was the last time Yeshareg saw her friend alive.
No one will ever know exactly what went through the mind of Letikiros in the moments that followed. What is known is that she somehow slipped and fell, smashing her clay pot full of water into small pieces. She must have watched in horror as the water spilled out on the dusty ground and abruptly considered the harsh reality of her situation. More than 10 hours of walking and waiting had been undone through a simple misstep.
Those who knew her well believed she must have been overcome with shame. She knew her mother and sister were at home waiting for the water. She knew they needed her water to cook dinner. And now, even the clay pot was destroyed — a valuable asset for the family. So rather than continue home down the path empty-handed, the 13-year-old child slipped the rope from the pot through the branches of a tree, then around her neck and hung herself.
In many countries around the world, women and girls put their lives in danger every day to collect water for their families. The long, exhausting and dangerous task of walking for water is just one of the many reasons charity: water works to build community water projects close to people's homes.
Having access to clean water within the community not only saves hours of time, it also provides safety, health, and hygiene. It directly impacts the future of girls just like Letikiros, and we believe it's the first step out of poverty for rural communities all over the world.
Letikiros Hailu wanted to change the lives of the people of Meda for the better. Although she never got the chance in her too-short life, she will be loved and remembered forever.
If you'd like to support the work of charity: water, please visit charitywater.org. One hundred percent of all donations directly fund water projects.
Author Biography:
Scott Harrison spent almost 10 years as a nightclub promoter in New York City before founding charity: water in 2006. In nine years, charity: water has raised over $170 million and funded 16,000 water projects in 24 countries. When completed, those projects will provide over 5.2 million people with clean, safe drinking water. Scott was recognized in Fortune magazine's "40 Under 40" list and Forbes magazine's "Impact 30" list, and was #10 in Fast Company's "100 Most Creative People in Business" issue. He's currently a World Economic Forum Young Global Leader and lives in NYC with his wife Viktoria and son Jackson.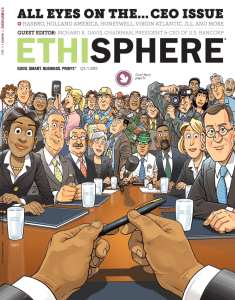 This article was featured in the Q3 2015 issue of Ethisphere Magazine. To subscribe and learn more about Ethisphere Magazine click here.