Industrias Peñoles, a Mexican mining company, hasn't survived for 131 years without forging deep ties to Mexico and its communities, and nobody is more acutely aware of that fact than Director General S. Fernando Alanís Ortega, who took the time to talk with Ethisphere Magazine about how his company thinks about its stakeholders and social responsibility.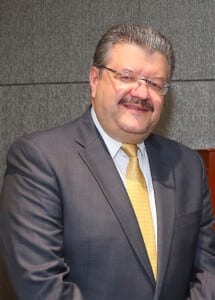 Tyler Lawrence: Could you open by just telling us about Peñoles's values over generations of operating in Mexico?
S. Fernando Alanís Ortega: As you know, Peñoles has a long history. We are a 131-year-old company. At Peñoles, there is a special sense of pride in belonging to this company. There is a confidence that all the employees have in the company, and a confidence that the company has in each one of its employees, too.
The company has been invested for a long time in our people and also in our communities. Because of the type of work that we do as a mining company, we normally arrive in places where there is very low infrastructure. We bring education, we bring electrification, we bring roads. In order to develop an area, we need to have excellent relations with the communities. That has been the foundation of our success.
TL: I would have to think that part of developing that confidence between employees and the company, and between the company and the communities where you operate, is operating with integrity.
FAO: Our corporate values have been in place for many years. Our four key corporate values are confidence, responsibility, integrity, and loyalty. Values are intangible things that are difficult to show or demonstrate in our daily life. So we developed our code of conduct to put in writing what we expect from each one of the people who belong to this company in their relations with our contractors, in relations with our government, in relations with communities, or internally.
TL: You've been with Peñoles now for 23 years. What changes have you seen over the course of your career?
FAO: There's been many changes. We have identified five stakeholders. First of all, our investors. We need to show them that we are the best investment for them by being reputable, efficient in the way that we operate, and competitive.
The second stakeholders are our people. For me, that means that when our employees retire from this company, they can say that the best thing that happened in their life was to work for Peñoles. That means that they have the opportunity to develop, to be trained, opportunity to grow, and that they'll receive a fair salary.
The third stakeholders are the communities and authorities. For us, social license is very important, even if it is not recognized in an official way. We want to be recognized by the communities as an excellent neighbor and by the authorities as an excellent citizen.
The fourth group of stakeholders is our suppliers. We want to be recognized as an ethical company with whom they can do business in the long term. The fifth is our customers. We want them to always think of Peñoles first as a supplier, and as their best supplier.
TL: What are some challenges to running a business with such a long history?
FAO: One of the internal challenges that we have is that we are a company with a long history and a very young heart. The average age, at this moment, of the people at our company is 37 years old. One of the challenges we have is to capture new talent and to make the working environment attractive for them to stay. So far, we have been very successful, and we have very low attrition.
When I took over as the CEO, we had about 100 women working with us, most of them as secretaries. Today, 20 percent of our population is women. In our legal department, 62 percent of our lawyers are women, finance is close to 53 percent women, internal control is close to 48 percent women, and so on. It's a major change that has happened in a very short period of time.
TL: You mentioned that social license is very important for you. Is every company in Mexico thinking about it?
FAO: No, unfortunately. But it's going to change. One of the challenges in our country is to have more balanced development. We learned that lesson many years ago due to the nature of our jobs.
As I mentioned before, normally our mines are in places where there is nothing. We not only need to build a new mine, we also carry in all the services and many goods to the community. A mine is a non-renewable resource, so one of these days the mine's life is going to end. When we start new operations, we try to identify the competencies of the community. We try to find an economic activity to help them to be independent of our activity, so the day we finish and close the mine, they are not going to suffer. We strongly believe in the development of communities, and we help them to be self-sufficient.
That's the nature of the way that we do business. Other companies need to understand that if they want to be successful, their communities need to succeed, too.
TL: Peñoles's relationship with the communities where you operate seems to be quite deep. What is your strategy for community relations?
FAO: We normally have five lines of interaction with communities. The first one deals with education. We invest a lot of money to prepare better teachers, with the belief that if we have better teachers, we are going to have more prepared students.
Our second line of action is to encourage the development of small businesses. The third deals with infrastructure, working together with the authorities. Sometimes we invest, sometimes we negotiate with authorities to convince them to attend to the needs of the community.
The fourth strategy, which is more and more important in Mexico, is to try to restore basic social infrastructure. For example, we use sports to attract young people. We teach them teamwork and spirit, we teach them to be on time and to follow rules, and we keep them busy. We do the same with culture, for kids whose interests are not in sports but in other activities like playing an instrument. We have a symphony orchestra of 106 children that we sponsor, and through the music, we also try to develop the same values and attitudes. All of these activities are focused on trying to build better citizens, better communities, and better families.
The fifth activity in communities is to really care for the environment, to protect the environment. Those are the five lines of action that we have implemented in each one of the operations. We're trying to find different ways to help our communities to be better citizens and more committed Mexicans.
TL: Besides just complying with the law, what can a major company like Peñoles do to help foster a culture where corruption is less accepted?
FAO: We have close to 5,600 domestic suppliers, and we encourage them to certify in quality, in environmental codes, and also to follow our ethics code. Any supplier that doesn't follow the ethics code is out of our business immediately. So we have a lot of power, at least with 5,600 suppliers, to fight corruption.
TL: Where do you see Peñoles's social and environmental commitments going from here? How do you see them evolving over the next several years?
FAO: The typical strategic planning exercise is to have a vision and to establish what you want to do, or what you want to be in certain periods of time. We have a vision for how we see Peñoles in the year 2025, from the point of view of our five different stakeholders.
We want our stakeholders to say that Peñoles is the best company in the neighborhood, and that they want Peñoles to be around forever not only for the jobs we create, but also for the commitment that we have to the social development of communities. We want the authorities to say that they would love to have our operations in their states or in their counties.
We have established this type of view for each one of these five stakeholders. And that's part of our strategic plan, and there are several action steps that we have identified and we have specific projects to accomplish. I'm pretty sure that we are going to fulfill not only the economic expectations, but the social expectations and sustainability expectations, for this company for the year 2025.
TL: Any final words?
FAO: We are a company committed to doing things in the right way. That doesn't mean that we are perfect, but that means that if we make a mistake, we can learn and correct it immediately. We believe that we are going to be a great company, and we feel very proud to do what we are doing.
---
About the Expert:
Fernando Alanís Ortega has been the Director General of Industrias Peñoles, SAB of C.V. since 2008. Before becoming Director General, he served in various other roles at Peñoles, including as Director of Planning and Technology, Group Director of Mines, and Executive Director of the Metals Group at Met-Mex Peñoles. Before coming to Peñoles, he worked for 18 years at DuPont.