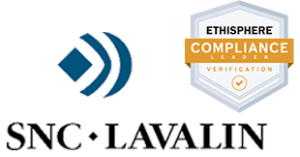 The Company: Founded in 1911, SNC-Lavalin is a global fully integrated professional services and project management company and a major player in the ownership of infrastructure.
The Compliance Leader Verification: SNC-Lavalin was recently awarded the Compliance Leader Verification from Ethisphere.
What it is:
The Compliance Leader Verification is awarded to companies that have demonstrated a commitment to and investment in a leading ethics and compliance program. The process involves a rigorous review of ethics and compliance program and corporate culture.
It also includes taking the Ethics Quotient® (EQ), a questionnaire covering the elements of an effective program; and benchmarking results to the data from the World's Most Ethical Companies®. Ethisphere's experts also conduct extensive document review and interviews with executives and stakeholders.
What it covers:
SNC-Lavalin's performance was evaluated on six key areas:
Program resources and structure
Perceptions of ethical culture
Written standards
Training and communication
Risk assessment, monitoring and auditing
Enforcement, discipline and incentives.
Why it is important:
"I am proud that SNC-Lavalin is once again acknowledged by Ethisphere. We have come a long way since the day we started our ongoing integrity journey. This prestigious recognition is owed to our employees who give life to our program and embody our Integrity value," said Ian L. Edwards, President and CEO of SNC-Lavalin. "For us, acting with integrity means doing what's right by making the right choices and holding ourselves to the highest ethical standards. Our culture of integrity is strong, and we look forward to always implement best practices in the field."
"This year, SNC-Lavalin outperformed Ethisphere's benchmark of comparable companies across all eight pillars of an ethical culture. In practice, this means that employees know how to act in an ethical and compliant matter and are comfortable speaking up and reporting concerns," stated Douglas Allen, Managing Director, Data & Services, Ethisphere.
Learn more:
Visit the Ethisphere Compliance Leader Verification page or email [email protected] for more information.