Sustainability
Short-term thinking might win companies one good day in the market, but eventually that attitude can tank a company's ability to grow and innovate. Sustainability extends beyond just environmental concerns, which are obviously vital, into a broad range of long-term thinking for companies: about community engagement, about license to operate, and about investing now to ensure your business remains cutting edge for years to come.
Tyler Lawrence
Jim Fish, President & CEO, Waste Management With its sun-drenched galleries, the raucous 16th hole and the famous Birds Nest afterparty, many see the PGA TOUR's Waste Management Phoenix Open as a ...
The ESG Issue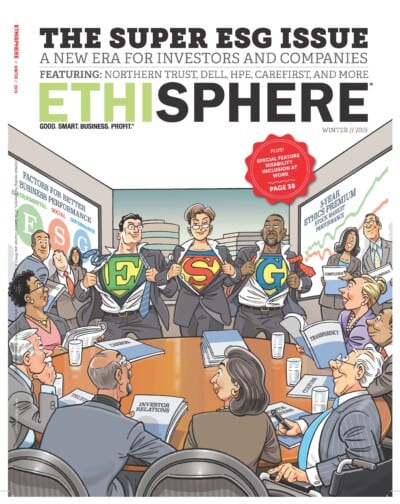 "The Super ESG Issue" of Ethisphere Magazine examines the heightened scrutiny of ESG issues by consumers, investors, regulators, and potential clients. Contributors include investors, proxy services, as well as in-house ESG professionals giving their analysis on the state of ESG metrics.