Hui Chen served as the Compliance Counsel Expert at the United States Department of Justice's Fraud Section. More on Chen below.
Toward a New Cross-Cultural Approach for Global Organizations
As a compliance officer in global corporations, I had often been on the frontlines of culture clashes, trying to implement corporate compliance requirements that were perceived as inconsistent with local cultures. From Beirut to Rio to Shanghai, the refrains were constant: "In our culture, people don't speak up"; "in our culture, giftgiving is important"; "in our culture, you always give business to your friends and family."
In his best-seller Outliers, Malcolm Gladwell described cultural clashes that led to deadly consequences. In highly formal and hierarchical cultures, airline cockpit crew were often reluctant to speak up to the commanding captain, even to warn of impending disasters. Gladwell described how this cultural phenomenon contributed to crashes from Korean Air in Guam to Avianca in New York.
Download the full article
To help readers understand just how hierarchical the culture was, Gladwell recounted an incident when a Korean Air first officer made a mistake, and the captain reportedly struck the first officer with the back of his hand! The remarkable story in Outliers, however, was the turnaround. Korean Air went from having a crash rate seventeen times higher than its American contemporaries in the 1980s and 1990s to a spotless safety record since 1999. Gladwell described the unlikely beginning of reform: giving the pilots "an alternate identity" away from the trappings of their culture by using the English language in the cockpit.
This "alternate identity" approach is part of a larger movement in the aviation industry known as the "Crew Resource Management" – or CRM. CRM is a set of training and procedures that focuses on communications, leadership, and decision-making in environments where human errors may cause deadly consequences. It is now not only taught to pilots all over the world, but also used in fields well beyond aviation, from firefighting to infection control. It is no exaggeration to say that CRM has transcended cultures in these fields in ways that saved lives.
Read the full article from Chen here.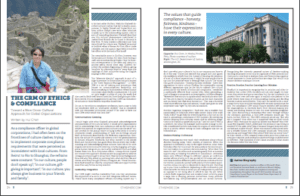 About the author
Hui Chen had served as Compliance Officer at Microsoft, Pfizer, and Standard Chartered Bank, on locations in Munich, Beijing, New York, London, and conducted compliance training and investigations throughout the world. Until recently, she was the Compliance Counsel Expert at the United States Department of Justice's Fraud Section. Connect with Chen on LinkedIn.