U.S. Bank's Chief Human Resources Officer Ismat Aziz is on a mission to blend the art of personalization and the science of data to provide a best-in-class employee experience at U.S. Bank—both for current employees and for the workforce of the future. She knows well the importance of providing a customized experience for employees' unique needs: as a successful female senior executive and single mother of four, she's broken the mold.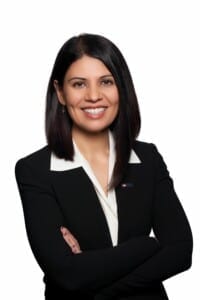 A generation ago, our workplaces looked different. There were fewer women and fewer people of color, and most employees had grown up without computers or other emerging technology. Today, employees come to work seeking not just a paycheck, but also meaning. They want to feel good about what they do during their nine-to-five—if it's even nine-to-five in today's always-on, mobile-enabled workplace.
Amid all that change, the generational balance of our workplaces is also shifting. Last year, millennials grew to more than a third of the workforce, according to Pew Research. They, and some of their colleagues in the older generations, plan to postpone retirement until after age 65, meaning that our generational diversity will be increasing as time goes on.
We are at a pivotal point in time. To be at full strength as an organization and create the most value for all our stakeholders, we need to harness the power at the intersection of art (embracing cultural and generational diversity and empowering employees) and science (data and analytics).
Data Informs How We Support Employees
At U.S. Bank, we are exploring data analysis capabilities to meet employees where they are in their career journey, offering benefits and support for every stage of life.
Employees may start their career with us at any age or stage of their working life, so their needs and desires will naturally vary. We're beginning a journey to infuse data and analytics into our HR organization in order to help us pinpoint what employees need, in order to drive better, more informed decisions about what we're doing well, what we need to change, and how employees are feeling.
As a starting point, we plan to use unstructured data processing to identify common themes from reviews about working at U.S. Bank on public, third-party sites. By narrowing in on these most popular topics, we can then more strategically gather additional data via surveys and interviews to explore and address them.
Taking a longer-term view, we plan to use data points, including third-party data, and model that data in a way that allows us to identify employees' needs. With all this data, we'll be better equipped to anticipate future patterns and trends to benefit employees and our company. As our data analysis capabilities mature, we will use data to predict what skills and support employees need to remain competitive in the workplace. As the way we do business changes, we ensure that employees are connected to new opportunities and that their valuable knowledge isn't lost. We're thinking not just about how to fill roles today, but how to use data to understand what those roles will look like as our industry evolves, and actively plugging employees into training that keeps their skills competitive for that future state of work.
Ultimately, we aim to move from reporting to predictive and prescriptive analytics via machine learning—allowing us to be proactive, not reactive, and anticipate employees' needs.
Personalization of the Employee Experience Is an Art
Today, we know that an individualized approach is crucial to employee engagement, especially in a multigenerational workforce. We personalize our employees' experiences by supporting their interests outside of work, giving them options to better integrate life with work and to be their full, authentic selves on the job and in the community.
One way we do that is by supporting employees' passions. Since all full-time employees receive two paid days off to volunteer annually, our team was able to supply more than 109,000 manhours and donate more than $14 million to nonprofits last year alone. To boost those contributions, we offer a matching program for both employee donations and time volunteered.
We also empower employees to share their unique perspectives through Business Resource Groups (BRGs), which are employee-driven groups connected by culture, age, gender, and/or geography. BRG members contribute powerfully to our company by advising leaders and project teams on policies and products and by carrying out amazing volunteer work in our communities. With more than 100 chapters in five countries, members of our 10 BRGs plan events that draw more than 35 percent of our workforce annually, and play key roles in initiatives including our annual Pride campaign and related debit card design and our military customer service center.
Empowering All Employees to Integrate Work and Life
In our constantly connected world, it's important to realize that work and life are integrated. There is no such thing as "balance" anymore, as texts chime in from the kids during an important meeting and cellphones buzz with new client messages during dinner. I'm intimately aware of the need to integrate work and home life and passionate about leading this conversation at U.S. Bank.
As a single, Asian mother of four, I live a life that's inconsistent with cultural and gender norms—norms that are becoming less relevant in the age of "you do you." At U.S. Bank, we embrace all employees' authentic selves so they can bring their whole selves to work. However employees choose to express culture and gender at work, we support them—and we ensure their teammates and managers understand how to support them, too, through educational resources and policies that focus on the individual first.
When I arrived at U.S. Bank in 2018, one of the first things that struck me was how committed the culture already was to workplace flexibility and inclusion—and how ingrained those ideals were in our policies. We keep employees engaged and help them prioritize what's important to them throughout their lives, by providing flexible arrangements whenever possible for employees who request transfers because of a partner's reassignment in the military or the need to care for a family member. Speaking of life changes, no matter how employees choose to build a family, they have our support and encouragement to take time off to bond with and care for their families. We provide paid time off to birth and non-birth parents and offer adoption and surrogacy assistance.
Preparing for the Workforce of the Future
The future is unfolding before our eyes. To be a successful organization going forward and continue helping employees build meaningful careers, it will be critical to have a strong relationship between HR and digital operations teams. Learn to speak the digital language, listen to what your employees are telling you, act on that information, and you'll be well positioned for whatever the future holds.
---
About the Author:
Ismat Aziz is the Chief Human Resources Officer at U.S. Bancorp. In this role, she is responsible for the human capital strategy of the organization including talent acquisition and development, performance management, compensation and benefits, employee relations, and diversity and inclusion. Ismat is a member of the U.S. Bancorp Managing Committee. Ismat has four children and lives in Minneapolis, MN.