Following a year that saw VF Corporation streamline its portfolio of brands and move its headquarters, Ethisphere Magazine took the chance to ask a few questions to the company's General Counsel Laura Meagher about leading the legal function through these shifts. In this conversation, she discusses preserving culture, new regulations and cross-company collaboration at the new VF.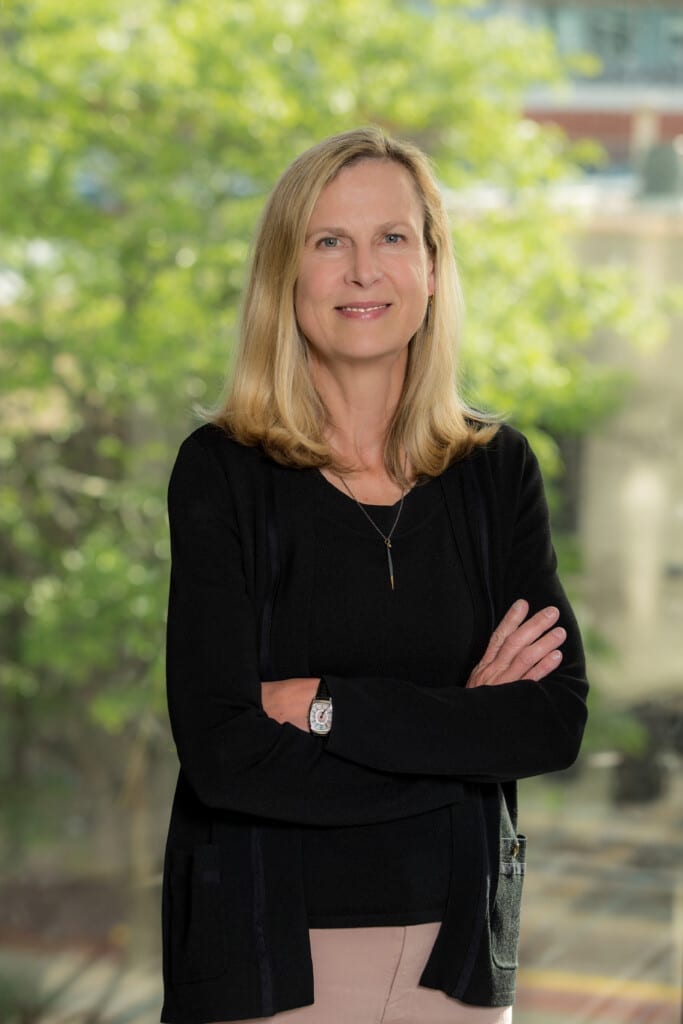 Ethisphere Magazine: VF has undergone a number of significant changes in the past year or so, can you offer some background on the newly evolved VF?
Laura Meagher: 2019 marked one of the most significant periods of transformation in VF's 120-year history. The successful spin-off of our jeans business in May was a huge accomplishment, which allowed us to concentrate our efforts on building and growing our iconic portfolio of brands across the active, outdoor and workwear segments – led by brands like Vans, The North Face, Timberland, and Dickies. Another major change for us this year has been our headquarters move to Denver, Colorado in June, which is a place with an unrivalled heritage and culture of outdoor and activity-based lifestyles, as well as a thriving business environment. Finally, we have been highly focused on building a purpose-led, performance-driven culture that celebrates our shared journey while respecting and enabling the individual culture of each of our brands. It's a new day at VF as we step into the next chapter of our journey as a more dynamic and agile corporation.
EM: What has the change meant for the VF legal function? How has the legal team helped shape that transformation?
LM: All of the transformational change over the past 18 months has put a premium on the support the VF legal team has provided. The complicated securities, commercial, operational and regulatory aspects involved with the spin off our jeans business required a significant step up in the need for legal support and guidance. As we emerge as a more consumer-minded, retail-centric and hyper-digital business, we are even more focused on areas of privacy and data protection. At the same time, our increased focus on China and other emerging markets has increased the demands on our ethics and compliance team to ensure we are managing our business with the right controls in place globally. In addition, with our move to Denver, we have had the opportunity to attract new local talent from the Denver legal community, which has allowed us to expand and diversify our team.  The legal function will continue to play a key role in ensuring that as a company we do so in the right way, consistent with our purpose.
EM: You have ultimate accountability for VF's ethics and compliance function. What role does ethics and compliance play in a purpose-driven organization and how integral is it to business success?
LM: Our purpose is to power movements of sustainable and active lifestyles for the betterment of people and our planet. At VF, we seek to be more than just one of the world's largest apparel companies, but a company that uses its scale and resources to improve people's lives and make the world a better place. This is what the marketplace and society expect of us, and it's what we expect of ourselves. Our ethics and compliance team is critical to cultivating our culture and living our purpose. Throughout our 120-year history we've reinvented ourselves multiple times, always thinking about our next move.  And it's been our steadfast commitment to ethics, integrity, and running our business consistent with our purpose that has directly contributed to our business success over that time.
EM: As a company consisting of diverse brands, business units and regions, how does VF maintain a collaborative and inclusive approach to ethics and compliance, while preserving the unique culture that exists throughout the business?
LM: We work to ensure that every business decision we make is done with our Guiding Principles in mind. Those principles of integrity, courage, curiosity, empathy, and perseverance help create a culture where associates understand what is expected of them, have the resources to make the right choices, and feel empowered to speak up and raise concerns. We challenge ourselves to ensure there are unifying themes in our messaging across the enterprise, while providing opportunities for tailored engagements that meet the direct needs of our business partners. We also strive to ensure that transparency exists throughout the organization. Whether it's by posting our Ethics Helpline statistics publicly, openly sharing survey data, or publishing real-life ethics investigations results, we are looking to not only preserve our culture of integrity but enhance it by building trust and living our Guiding Principles.
EM: As the role of ethics and compliance has become more integrated with other functions in the organization, what challenges have you encountered?
LM: We view the evolution of our ethics and compliance work as having presented more opportunities than challenges. As we begin to amass data and help increase awareness, we can work with our brands to tailor our interactions through our training, communications, and other engagement activities. That leads to real results and measurable impact, which creates stronger partnerships with our colleagues and business partners. We also recognize the need for consistency. For example, we have over 200 ambassadors across the company who support our internal investigations process. Each of those associates is provided with in-person training to help ensure a common approach. More than anything, we view this as an opportunity to provide a significant return on investment and have a positive impact on our culture worldwide.
EM: As consumer privacy has become an increasingly hot-button issue, what steps have you taken to ensure compliance with new regulations? Do you consider going beyond regulations in cases where consumer expectations may be driving potential new regulations?
LM: Respect for consumer data is fundamental to our commitment to being consumer centric. Ensuring consumer privacy and the protection of our consumers' and our employees' data is critical to ensuring trust while creating the best experiences possible. We commit to following the law everywhere we do business, but we also know it's important to ensure our policies reflect our purpose and our Guiding Principles. Our work in the area goes beyond compliance. We've developed a robust program that includes the appointment of a data protection officer in Europe. All of this has allowed us to ensure more collaboration across the company and create stronger awareness about our partners and how we can enhance synergies in our approach to data privacy.
EM: How do you resolve what could be potential points of tension between compliance and marketing for new regulations like GDPR?
LM: While we strive to take a practical, business-friendly approach, the bottom line is that compliance always comes first. Our efforts to provide practical solutions cannot be overstated, but our focus is on providing legally compliant approaches that provide solutions to the needs of the business.
EM: How does VF factor in the rapid shifts in geopolitical risk in what appears to be a volatile operating climate?
LM: As a global company with operations in more 150 countries around the world, we are generally accustomed to the ebb and flow of global events, but we keep a close eye on them. And, of course, our teams are constantly evaluating how events may influence our business – positively or negatively – and taking actions to reduce risk or take advantage of opportunities. For instance, the recent tariffs have caused us to look at ways to further diversify our supply chain so we are not overly dependent on any one country.  And in some instances, we make more significant changes as we did this summer related to the Amazon fires in Brazil, where we made the decision to suspend our leather sourcing until we can be assured our Responsible Sourcing Guidelines are strictly followed.
EM: What do the legal and compliance teams do to proactively identify new risks? What are some examples of trends that you've identified that have the potential to become issues for companies like VF?
LM: We've really taken a holistic approach to risk management. We've put into place a more systematic risk assessment process that includes greater collaboration. In addition, we work closely with our analytics team to gather data and insights that allow us to engage associates and focus our activities and resources in the right direction. This allows us to address emerging risks and evaluate the impact of our work on existing issues in a meaningful way.
EM: As you look back over your career at VF, what do you hope to leave as your legacy?
LM: My vision is to ensure that the legal and compliance teams are viewed as trusted business partners that enable the success of our business by helping ensure we stay true to our purpose and always remain on the right path.
---
About the Expert:
Laura Meagher is Executive Vice President, General Counsel & Secretary of VF Corporation. She holds overall responsibility for VF's legal function, including compliance with securities laws, mergers and acquisitions, general corporate law and corporate governance, and intellectual property law and litigation. Ms. Meagher joined VF in 2004 as Assistant General Counsel.