Every year after we announce the World's Most Ethical Companies, I get the pleasure of diving back into our data and teasing out the trends that emerge as companies mature their ethics, compliance, sustainability, and diversity programs. Some years, the story is simply one of continued gradual change as more companies adopt best practices. Other years, we see significant shifts in organizational practices driven by consumers, regulators, or the overall environment. Unsurprisingly, this was a year of change.
As always, I get to tout the Ethics Premium, which is our term for the fact that the World's Most Ethical Companies ® honorees continue to outperform the market in the long term, by 7.1% over the last five years. Other trends are worth highlighting, too: ethics and compliance teams are getting greater access to their boards of directors; companies have put a new premium on clear policy communication in this year of upheaval and remote work; and ethics training and communications practices are evolving as companies learn to meet the needs of remote workforces who may not ever return in quite the same way to the office.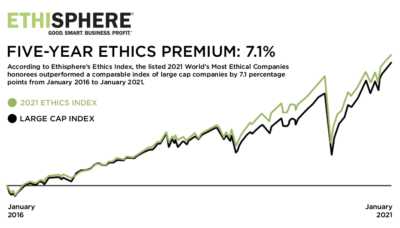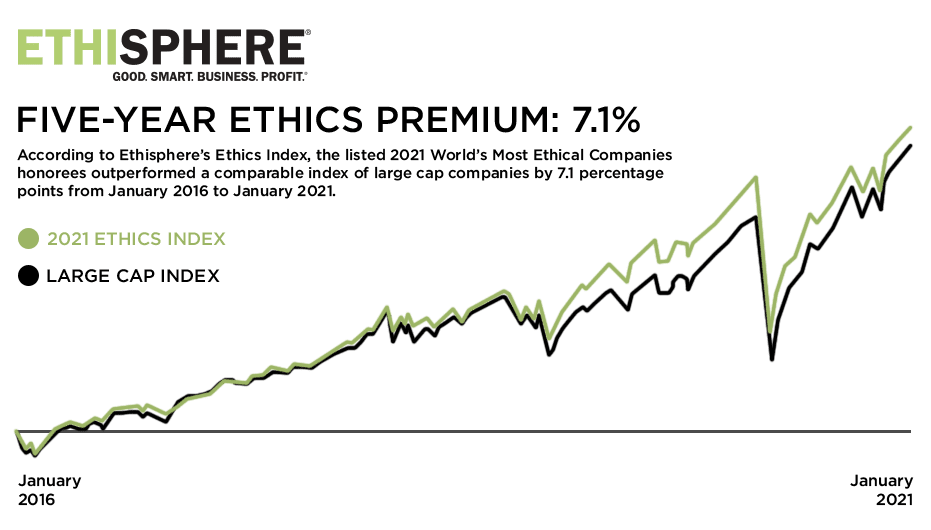 Boardroom Access for Ethics
For several years now, we've seen the ethics and compliance function get increasing access to the board of directors at honoree companies. Partly, we can attribute this shift to regulatory nudges—the June 2020 update to the U.S. Department of Justice's "Evaluation of Corporate Compliance Programs" explicitly discussed the role of board oversight, compliance access to the board of directors, and the kinds of information compliance provides to them as relevant questions for regulators.
For the first time, this year we asked companies which functions a new director on the board meets with. Unsurprisingly, the most common responses among honoree companies were legal (96%) and finance (91%). However, ethics and compliance were the third-most common function to be part of new director onboarding, in 87% of honorees.
Regular updates to either individual directors or board committees are now very much the norm. Most (79%) of honorees update the committee responsible for E&C program oversight at least quarterly, if not more frequently [fig. 1].
In addition to committee relationships, personal relationships with committee chairs are also key. Among honorees, 83% report that the person with overall responsibility for the program speaks regularly with the oversight committee chair, with 71% speaking before each board meeting, and 12% doing so monthly. Both of these numbers rose slightly from last year's data.
Among the 40% of honorees who have a different person with day-to-day responsibility for the ethics and compliance program than the overall owner. Of those organizations, 70% have both individuals present to the board whenever an update is given.
Focus on Effective Ethics and Policy Communications
The sudden shift to social distancing last March necessitated a radical rethinking of communications strategies to reach the full workforce, either of frontline workers now at increased risk or white-collar jobs that had largely become remote. In this environment, clarity in every policy and communication became an absolute requirement, putting significant importance on one particular mechanism: a company's policy-on-policies.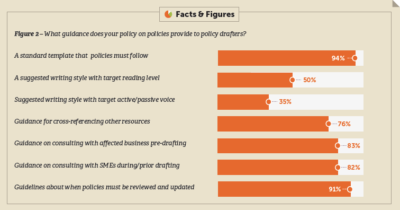 Companies are increasingly concerned about ensuring that key rules, documents and procedures are not just disseminated to employees, but effectively get their messages across. Less face time means fewer touch points to clarify. Because of that, 86% of honoree organizations now have a "policy on policies" to standardize this aspect of communications. This is a significant jump from 78% of honorees last year.
Companies have many goals with the policy on policies, including: 1) providing a standard template that must be followed for clarity (94%), 2) providing guidelines about when policies must be reviewed and updated so stagnant rules don't stay on the books (91%), and 3) providing guidance about consulting with affected business units (83%) and subject matter experts (81%) to ensure the right stakeholders have weighed in during drafting. [fig. 2]
In our own reviews of policy, Ethisphere continues to see a need to review written standards and simplify the language used. Half (50%) of honorees include style and reading level guidance in their policy on policies.
Training and Communications in Flux
Of course, even as vaccines roll out and office life becomes possible again, it's become very clear that the pandemic has permanently altered employees' relationship with both working hours and in-person time, proving that companies can and should be more flexible with both and still succeed. Hybrid work is likely to become the norm, and more employees will report to managers they see in-person far less often, if ever.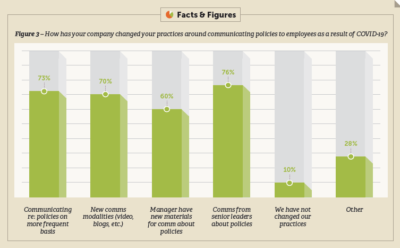 This long-term change makes trends in training and communications all the more important to watch, as significant changes to training modalities, timing, and structure will be necessary.
Nine out of ten (90%) honorees reported making at least some changes to the way they communicate around ethics and policies as a result of COVID-19. Important shifts included more frequent communications (73%), new modalities (70%), and new materials distributed to managers (60%) to better communicate to their direct reports in a remote or socially-distanced environment.
One trend of note was that 77% of honorees reported leaning more on communications from senior leaders, with many of the most personable examples of home videos from CEOs getting positive outside attention. In a separate question, we found that 84% of honorees feature senior leaders telling personal stories in their ethics communications. Humanizing corporate leaders in this way may present new opportunities going forward. [fig. 3]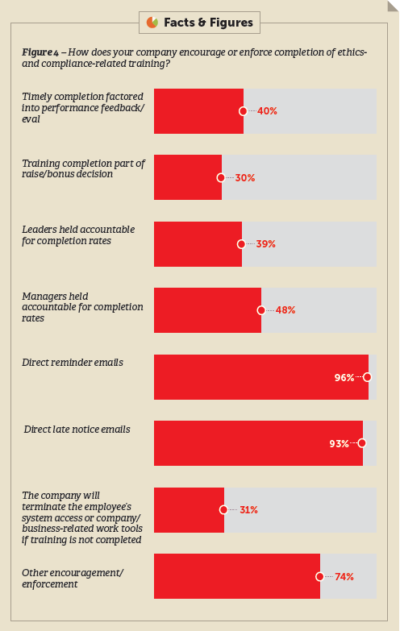 Training completion presents an even greater challenge in a dispersed environment, which is one reason we saw increases in the percent of honoree organizations reporting various ways of encouraging or enforcing training completion. Among emerging practices, nearly a third (30%) now factor completion rates into raise or bonus decisions, and almost half (48%) hold managers accountable in compensation and performance reviews for their team's completion rates. [fig. 4]
There was a large jump in the number of companies tracking how frequently written standards were accessed online, from 57% to 65% of honorees. These metrics can help gauge communications effectiveness.
As companies experiment to strike the right balance between in-person and remote work, we expect to see each of these trends continue to evolve over the next few years. We'll be watching closely to see what best practices start to emerge for communicating an ethical culture in a remote environment.
As always, we'll be sharing additional data in our Insights series over the coming months in webcasts and publications. Stay tuned for more best practices from the World's Most Ethical Companies.
---
About the Author:
Douglas Allen is Managing Director of Data & Services for Ethisphere, where he leads benchmarking, certification, and partnership efforts. Previously, Douglas spent six years with providing compliance- and ethics-related advisory services, including developing compliance and ethics risk assessments, codes of conduct, corporate policies and procedures, and communication and training curriculum plans.