Compliance and Ethics
At the heart of Ethisphere's motto of Good. Smart. Business. Profit, this discipline focuses on mitigating the risks created by people out in the world acting on behalf of your organization. Whether it is more effective manager training or an anti-corruption policy employees will actually read, our contributors discuss how to structure pragmatic solutions to pan-industry problems.
Brooke Borges
As COVID-19 working and travel restrictions begin to ease, now is a good time to revisit corporate compliance programs to ensure that they are still well-tailored and risk-appropriate for the way that business will be ...
World's Most Ethical Companies® Insights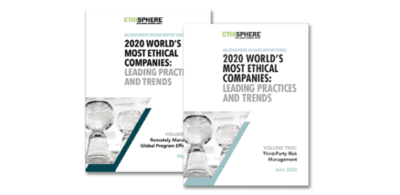 Ethisphere has launched a new report series: Insights from the 2020 World's Most Ethical Companies.
Grounded in Ethisphere's proprietary Ethics Quotient®, the World's Most Ethical Companies assessment process includes more than 200 data points on culture, environmental and social practices, ethics and compliance activities, governance, diversity, and initiatives to support a strong value chain.
Related Ethisphere Resources