Dr. Leo S. Mackay, Jr. is Senior Vice President of Internal Audit, Ethics, and Sustainability at Lockheed Martin.
The core values of Lockheed Martin are:  do what's right, respect others, and perform with excellence. Our commitment to integrity, built on these values, drives us to hold our 98,000 employees, our board of directors and our suppliers to the highest ethical standards.
Our rigorous ethics program is designed to prevent and detect misconduct, reinforce our compliance with legal requirements and promote an organizational culture where employees are empowered to speak up and do what's right. As recent headlines about banks, automakers, and healthcare technology firms suggest, a high standard of business ethics remains a fundamental yet elusive sustainable business practice for some corporations.
Lockheed Martin is committed to enhancing and sustaining a solid standard for ethics across our business operations, including our supply chain. An ethical lapse involving one of our thousands of suppliers could damage our reputation, affect our ability to deliver high-quality products and services or even bar our corporation from winning future government contracts. Virtually no other industry sector competes with the stakes as high, so we've built programs to reflect that.
Download and read the full article here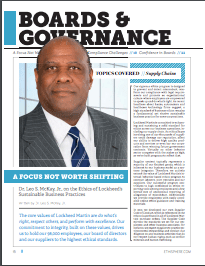 About Author
Before joining Lockheed Martin, Dr. Mackay served as Deputy Secretary of Veterans Affairs. The former Navy fighter pilot graduated from the United States Naval Academy and has a master's degree and Ph.D. in public policy from Harvard University. Dr. Mackay is also a member of the U.S. Naval Institute, Council on Foreign Relations and Aspen Strategy Group. Read more about Lockheed Martin.