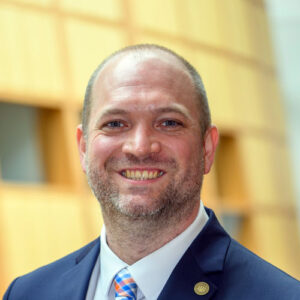 The William G. McGowan Charitable Fund is a philanthropic family foundation established in 1993 to perpetuate the philanthropy and ethical leadership of entrepreneur and telecommunications executive William G. McGowan. The McGowan Fund promotes and advances initiatives in education, human services, and healthcare and medical research through a variety of initiatives. One of them is the McGowan Fellows Program, an experiential program that partners with leading graduate business programs to imbue future leaders with a framework for ethical decision-making and to establish an ongoing dialogue with them on the importance of ethical business practices. For McGowan Fund Board Director Gertrude C McGowan, and interim Executive Director and Fellows Program Director Brian Peckrill, the McGowan Fellows program isn't just a way to make better MBA students. It's a way to advance values-based leadership in the modern ethics economy.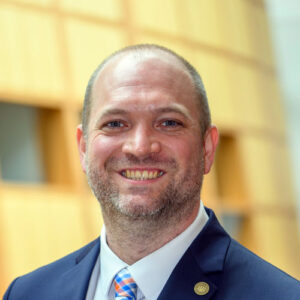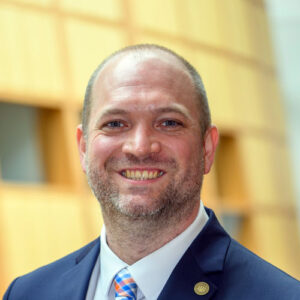 Gertrude, can you tell us a little bit about the McGowan's Fellow Program? It sounds like an amazing initiative for developing ethical business leadership.
Gertrude McGowan: It is an amazing program, and it is currently version two of our attempt to make an impact in higher education. When we originally began, we wanted to have some sort of an impact on individuals who needed financial help in pursuing their education. We had tons of schools and colleges that applied, and we took all comers. They'd get a $10,000 scholarship and they would be able to choose one or two students who would benefit from the scholarship.
When we looked at the impact of all that, we realized that while we were giving lots of scholarships and making a lot of people's lives a little bit better, we could be doing more. We wanted to do something a little more in the vein of our uncle, our founder, William G. McGowan. He was just a giant in the telecommunications industry, but he started out with very hardworking, modest roots in an Irish Catholic family. His mother was a teacher. All of his brothers and his sister went to school with some help through the GI Bill or some other kind of scholarship. He graduated from King's College in Wilkes-Barre, Pennsylvania, and then went to Harvard for his MBA, but he could not finish, because he simply ran out of money during his second year of the program. Thankfully, a scholarship known at the time as the Baker Scholarship enabled him to finish his MBA.
So we decided that we wanted to make a program that might be able to find the next Uncle Bill or give the next entrepreneur or ethical leader a chance. So we modeled the program as a second year MBA scholarship, and we went from there. Through Brian Peckrill's leadership, the McGowan's Fellow Program has become what it is today, an avenue for developing ethical leaders.
Brian, the McGowan Fund and Ethisphere both share a common interest in promoting ethical values-based leadership. How would you characterize the overall state of  values-based leadership today, especially in the business world?
Brian Peckrill: Values-based leadership is in demand. When we look at the Edelman Trust Barometer, we see that trust in institutions has been decaying. Businesses are ahead of public institutions, but not by much. But what we see is that the general public—specifically led by Generation Z—is sincerely driven to work for organizations that have ethical leadership and by products that benefit both businesses and society.
When asked, these same individuals say that they are prioritizing businesses that have ethical leadership ahead of those that support Corporate Social Responsibility or Environmental, Social, and Governance. And to that, I'd say that businesses are hearing this call and they're responding. Everyone knows that in 2019, the Business Roundtable published the Statement on the Purpose of a Corporation, which said, among other things, that businesses must track their societal impact.
When we talk to Korn Ferry, one of the largest corporate search firms in the world, they are considering ethics in their hiring of individuals. So while there's a demand for ethical leadership, I think the corporate sector is starting to respond. And what is clear is those businesses that prioritize ethical leadership are going to succeed and see higher business profits.
One of the most disheartening things to see in today's business integrity environment is someone who appears to have reached a very high position of power, wealth, and success without showing much honesty or integrity along the way. What would you say to someone—especially someone who is at the beginning of their career—who starts to think that maybe honesty and integrity don't matter as much as they thought they did?
BP: That ethics is good for society, but ethics is also good for business. Just a couple of weeks ago, we presented our second Ethical Leader of the Year award at the Society for Human Resource Management Annual Conference in Las Vegas. Our winner this year was Ed Bastian, the CEO of Delta Airlines. Since he became CFO about two decades ago, and into his time as CEO, Delta has dealt with many different major challenges. In 2005, they filed for bankruptcy. Certainly that was a low point, but they really hit rock bottom during the pandemic. And what Ed told us is that these opportunities revealed his character. In the mid 2000s, they really embraced empathy, listening to their frontline staff and the challenges that they were facing through bankruptcy. And through this, they developed a generous profit-sharing program.
During the pandemic, they blocked off the middle seat in their rows so that everyone had a little bit more space. Now, of course, this benefitted the customers, but they also did this for the staff so that they could feel safe while they're flying and understand that there could be some level of social distancing on these flights. They became very creative in their approaches to ensure that while they weren't flying and they weren't bringing any money in, individuals could continue to have health insurance during this really trying time.
Ed told us that he obsesses over his people so that they can obsess over the customers. And what we're seeing is Delta's finances are very strong as a result. And on top of all of this, Delta and the airline industry has never been safer. So what we're seeing is that Delta's embrace of ethics hasn't just benefited the people and customers, but it's benefited the investors and shareholders as well.
One of the most interesting things about the McGowan Fellows program is how it takes a truly long-term view of building business integrity by reaching business leaders before they even become business leaders and giving them meaningful support early in their career. In that vein, what advice would you have for ethics leaders with a similar long-term view and who are trying to move the needle within their own organization on ethics and compliance?
GM: I think a mistake that is made is sometimes we view the business decision-making process as large and our code of conduct or our ethics, as small, and it's actually the opposite. Hiring the right leaders, being the right leaders, having your entire culture be one of ethics and leadership… all of that is as large as it gets.
Uncle Bill would say that he wasn't successful despite his ethics, but because of his ethics. When I mentioned his upbringing before, coming from such a hardworking background, that was foundational. His dad was an engineer on the railroad. His mom was a teacher. And he always tried to do the right thing for the little guy, because he always viewed himself as the little guy. He often compared himself to the David and Goliath story, when he took on Ma Bell. For him, the success of MCI Communications was wonderful, and pivotal for his career. But when he looked at the monopoly that was there at the time, he thought it was unfair to the common man not to have competition, and to have to pay more to have communications. He just wanted to do the right thing. So while it sounds simple about doing the right thing, it needs to be broad and penetrate the entire organization.
When we think about future ethics and compliance professionals, how does an early understanding of ethical business practice—whether it's through the McGowan Fellows Program or something similar to it— set up business leaders for success?
GM: That's a great question. The way I think it sets it up is values-based decision-making becomes ingrained in their thinking. It's the very fiber of their training. It's the very fiber of how they're learning. That way, when you're learning your principles of all these great MBA concepts, you're also learning ethics alongside of it.
We have a very practical program, and we immerse its participants in real ethical decision-making experiences in addition to their classroom training. So at the very essence of their being a participant in the McGowan Fellows Program, they are learning to act in a way that is ethical. Hopefully there's no other way for them to act [laughs], but from the very beginning of their career, they are immersed in ethics. And then, ethics become a way of life for them. Truthfully, isn't that how it ought to be?
BP: When we are teaching leadership— and specifically ethical leadership— we're thinking of leadership as three components: direction, alignment, and commitment. Direction is how you set your goals and objectives. Alignment is how you adopt the tactics that will achieve those goals. Commitment is how you establish the guardrails for what you are willing to do and what you are not willing to do. We believe that ethics really fits into that commitment piece of leadership.
The problem with a lot of educational models that teach leadership is the paradox is that when leaders need commitment the most, when they need ethics the most, is when they are facing problems that they have never encountered them before. And to compound this, these individuals have learned leadership in structured classroom environments where they haven't had to confront these challenges firsthand. So what we've tried to do during the McGowan Fellows Program is to create an experiential engagement. One way we do this is we work with not-for-profits that are active within areas of homelessness and of low income individuals, where one decision might lead to somebody being laid off, one decision might lead to someone losing their retirement savings. We try to create this environment where Fellows engage with these people in ways that will help to develop their sense of courage, accountability, and empathy. That way, when they enter the business world and they have to make challenging business decisions, they will know how it affects others because they will already have had their values challenged and have been forced to encounter problems that are new to them. They'll also have had that experience working in kind of complex, challenging environments that have challenged their values in the past. And that will help to make them better ethical leaders.
ABOUT THE EXPERTS
Gertrude McGowan is a Board Member for the William C. McGowan Charitable Fund. In addition, she is an experienced chief executive within the health care legal, operational, and consulting space, where she currently serves as a Benefits Consultant for Creative Benefits. Gertrude also serves on the Boards of the Osterhout Free Library, the Wright Center for Community Health, and most recently, the Wilkes- Barre Law and Library Association.
Brian Peckrill is interim director of the William G. McGowan Charitable Fund, leading all operations of the Fund. He also serves as the Fellows Program director, where he is responsible for the design and implementation of this forward-thinking, ethics-focused experience for top MBA students, as well as fostering an active and engaged alumni community of young business leaders as they embark on and manage their careers. Prior to joining the McGowan Fund, Brian served as vice president of WorldChicago, a Chicago-based nonprofit organization focused on engaging the world in person-to-person exchange-based, capacity building projects. He has extensive experience developing and managing leadership programming around the world, including Ukraine, North Macedonia, and Japan.
To learn more, please visit the William G. McGowan Charitable Fund and the McGowan Fellows Program websites.