Even as the global auto industry has been rocked by the rise of hybrids and electric vehicles, and the tantalizing promise of autonomous cars just around the corner, GM has doubled down on ethics to earn a spot on the World's Most Ethical Companies® list this year for the first time. The company's chief compliance officer told us a bit more about their approach.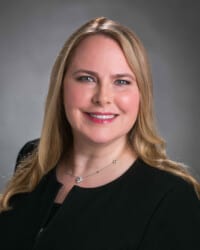 Aarti Maharaj: What does being a World's Most Ethical Companies® honoree mean to GM?
Ann Cathcart Chaplin: This honor is a testament to everyone at General Motors. Winning with integrity is one of GM's core behaviors. In a time of incredible disruption in our industry and the world, our vision of "Zero Crashes, Zero Emissions and Zero Congestion" is guided by our commitment to do the right thing and put the customer at the center of everything we do. As our CEO & Chairman, Mary Barra, says: "We have a rare opportunity to transform our world and our company, but if we win without integrity, then we do not win." I am so proud of our company and our team, which lives and strengthens GM's ethical culture. The honor is a recognition of the journey we've been on at GM to transform our company and our industry. It shows that people at General Motors are doing the right thing, even when it's hard to do. And it tells our customers, shareholders, business partners and other stakeholders that GM is a company they can trust.
AM: Managers are on the front lines of any ethics and compliance program, and our data shows that most employee concerns end up with their direct manager first. How does GM train managers to deal with ethics issues?
ACC: We regularly survey our employees around ethics and compliance topics, and this matches GM's internal ethical culture survey data. GM employees consistently indicate that they first report issues to their direct people leader and our policies encourage them to do so, while also making available methods for anonymous reports or reports to other functions within the company, like our ethics and compliance group.
"Being bold" is another of GM's core behaviors and it means respectfully speaking up, exchanging feedback and boldly sharing ideas without fear of retaliation. Promptly raising issues is important to quickly and appropriately addressing them. Speaking up and non-retaliation are core tenants of GM's Code of Conduct and ethics and compliance training program. It's critical that we provide the right training and messaging to our people leaders, so that they have tools to create a 'speak-up' environment and are prepared to address employee concerns.
Our Code of Conduct has a dedicated section on supervisors' responsibilities and contains examples and decision trees. In addition to the general Code of Conduct training all employees receive, GM provides a "What Would You Do" classroom course that presents leaders with various scenarios and examines how they could and should react. GM created an internal portal for people leaders that provides messaging, toolkits, and other information to help them carry out their responsibilities. We also developed a non-retaliation toolkit for people leaders to supplement GM's Non-Retaliation Policy and provide helpful guidance regarding how to respond when an employee raises concerns or fears retaliation. GM requires many in-depth, multi-day training sessions for executives and senior leaders that include ethical leadership components. Last year, GM rolled out a mandatory "People Leader Basics" program that provides leaders with training on their responsibilities, including encouraging and supporting ethical and compliant conduct.
Our efforts are making a difference. For example, in our Speak Up for Safety program, which allows for anonymous reporting, over 90% of reporters choose to identify themselves. This demonstrates that our employees do not fear retaliation and want to be associated with raising potential safety issues.
AM: These CSR commitments necessarily involve third party suppliers in your supply chain as well. What's GM's approach to making sure that third parties can meet your high standards?
ACC: Tone at the top is key, and our leadership team is aligned on creating a culture of integrity that extends to our suppliers. GM is a founding member of the Automotive Compliance Roundtable, a group of Chief Compliance Officers at automakers and certain Tier 1 suppliers who work to promote ethics and compliance in our industry and companies. We created a Supplier Code of Conduct to promote ethics and compliance in our supply chain and make GM's expectations clear. Our employees are directed to hold suppliers accountable and monitor their activities. GM utilizes a robust due diligence process for vetting new suppliers and business partners and expects our business partners to meet our standards and behave consistently with GM's values throughout the supply chain.
Our Supplier Code of Conduct details our expectations across broad areas including human rights, health and safety, the environment, and business integrity. Among other things, we maintain a supplier portal website to promote communication between GM and suppliers and expect our suppliers to promptly report integrity concerns to GM. We provide specific methods and tools for suppliers to report concerns. We work cross-functionally to audit suppliers and seek compliance certifications. GM responds when we become aware of violations, up to and including termination of contract. For example, we worked with suppliers to examine their practices around labor issues, a supplier was not meeting our expectations so we initiated a new sourcing hold until the supplier could develop a remediation plan to bring it into compliance.
AM: Safety is obviously of enormous importance for a major manufacturer such as GM. How does compliance integrate with and complement your safety efforts? Where can you learn from each other?
ACC: At GM, safety is a foundational commitment – never compromised. We are committed to safety in everything we do. And safety is fundamental to our compliance program. Our Code of Conduct leads with a message from our CEO that reiterates the importance of safety, followed by a specific safety message and it is interwoven throughout the remainder of the Code.
At GM, integrity and safety are two sides of the same coin – you cannot have one without the other. Every meeting at GM begins with a "safety moment" to ensure safety is always top of mind – whether at the office, driving one of our vehicles, working at a plant, or living safe practices at home. These safety moments create an opportunity to pause and reflect on our core values and behaviors. My experience is that this makes a direct impact on other areas important to our compliance program, like ethics and integrity.
Our safety and compliance teams meet regularly to share information, best practices, and identify and address potential issues. We work cross-functionally, bringing different expertise and skills to the organization and thinking about issues from a different perspective. The importance of cross-functional coordination and breaking down silos was a key lesson that we learned from the ignition switch crisis. We took those lessons very seriously and fundamentally transformed our company. We created new, senior positions focused on safety, and revamped our policies, procedures, and protocols. Perhaps more importantly, our CEO and leadership team, and every function across our company, drove real, sustainable cultural change focused on making the customer the center of everything we do with safety as our foundational commitment.
AM: How has your sense of purpose as an organization helped to guide you all as you navigate the challenges presented by the COVID-19 pandemic?
ACC: As the world deals with the global COVID-19 pandemic, GM and our employees have stepped up to help. GM is collaborating to increase production of respiratory care products, including critically important ventilators. And we're working with business partners and suppliers to locate and donate personal protective equipment. We are using our purchasing and manufacturing expertise towards a greater common good. Our employees have volunteered to make and deliver masks, donate and deliver supplies to hospitals, organize and implement food drives, and help in many other ways across our global locations.
People are GM's most important asset, so GM's dedication to the health and safety of its employees is foundational to our decision making. And given the current drop in the use of public transportation and extensive flight cancellations, our customers are looking to us to ensure they have the vehicles, parts, and services they need. As the danger of COVID-19 became apparent and threatened the safety of our employees and communities, GM's leadership team took swift actions, including: directing certain employees to work remotely; taking aggressive measures to ensure healthy and safe workplaces, directing employees to practice social distancing and other WHO and CDC recommended practices; temporarily suspending certain manufacturing facilities; and establishing an internal website dedicated to COVID-19 that contains frequently updated resources.
---
About the Author:
Ann Cathcart Chaplin is the Deputy General Counsel and Chief Compliance Officer of General Motors. Ann's team manages legal affairs for GM covering North America, Transformation, & Compliance. Ann was previously GM's Deputy General Counsel with responsibility for Autonomous & Transportation Services, Customer Experience, Global Product Development, Global Purchasing & Supply Chain, Ignition Switch, Labor & Employment, Product Litigation, Sales, Marketing & Complex Litigation, Strategic Transactions, and Vehicle Emissions & Regulatory. Ann joined GM in 2015 as Deputy General Counsel of Litigation. Previously, Ann was an equity principal at the law firm of Fish & Richardson specializing in intellectual property litigation.