According to Mittal, compliance remains front and center of every conversation, and just like ethics, "it's also at the core of everything we do," he says.
Interview by: Aarti Maharaj, Managing Director, BELA South Asia
---
Ethisphere recently spoke to Dr. Vivek Mittal, Global General Counsel, Dr. Reddy's, about his career trajectory and his work at India's pharmaceutical giant. In this exclusive interview, Dr. Mittal shares inspirational leadership advice on how delegating can empower employees and boost organizational performance and efficiency.
Aarti Maharaj: Dr. Mittal, tell us more about your new role at Dr. Reddy's.
Vivek Mittal: My role at Dr. Reddy's is multi-faceted. As the General Counsel, I am fulfilling that aspect of the role in addition to also serving as the Chief Data Privacy Officer and Compliance Leader. Cybersecurity and data privacy work hand-in-hand because ultimately if you collect data, it is vulnerable to cyberattacks. At Dr. Reddy's, we have a council that oversees cybersecurity and data privacy matters as well. It's an exciting time to be involved in these roles, as the General Counsel is more than just a lawyer.
AM: Given your new role, what are some priority areas of focus for you?
VM: Compliance is a big area of focus, and this continues to be the case across the industry. Equally important is data privacy, and third is M&A activity. Compliance remains front and center of every conversation, and just like ethics, it's also at the core of everything we do. However, some may think that once they have complied, then ethics will be taken care of, but in my view, these are two separate topics. Being ethical and being compliant are very different, and that's the approach that I intend to maintain.
AM: So how are you planning to use innovation or data to help the legal department further its goals?
VM: The first thing is to assemble the data in one place. For example, if at a company, the team investigating, the team complying, and the team negotiating the contract are different, then their knowledge and their data points would also be entirely different. So, what I'm trying to do is, I would like to bring them all together so that we have an overview of all the data. And from that data, I would like to understand what are the key development areas, what are the red flags, and if we have to change policies around it. I'm also trying to leverage the IT department's expertise to bring it all together into a cohesive platform—one that can be used to tell a story.
We have to take a closer look at what kind of data we are receiving, if it is in relation to compliance, specifically in which area. If it is data on the ethics front, we can then convert that information into training to educate and drive awareness among employees. And one thing also is putting counter measures in place and conducting remediation so we can mitigate those risks early on. So, what I'm trying to do is, with that data, I intend to assemble it and get the best out of it by converting them into remediation or training.
AM: What are three to four things that a law firm must do to impress you?
VM: I was discussing this same topic with one of my law firm friends some time back, about a year ago. And we found out there's an "A B C D" concept in relation to law firms. "A" focuses on their availability. In this fast-paced world, you rarely find good talent, and if that talent is very good, then their availability becomes a challenge. If a law firm is very good, and reputable I would want their availability. That's key.
"B" is their behavior. How well do they behave with us? Whether they think that we are also an equally good partner with them as they are with us. In short, the mindset should be: If we exist, they exist. If they exist, we exist. So that's "B."
Now, "C" of course, is their competence. I take a close look at the competence of a law firm. If they're incompetent, then they cannot work with us. And "D" is delivery. So, these are the four things, "A B C D," which I would look for in a law firm. It's not about impressing me; it's about if we can work together.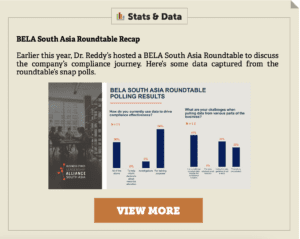 AM: Dr. Mittal, you probably have thought about this before, but what career path would you have pursued if you weren't a lawyer?
VM: When I was kid, I wanted to become an athlete. I was actually enrolled in training to someday become a badminton player! I took formal training for about three years, and then I realized that I started too late, and probably I should've started earlier.
But fast forward to adulthood, and I became fascinated with becoming a Company Secretary because a lot of friends around me were in that role. So, I started as a Company Secretary rather than as a lawyer, in terms of education. I always thought that I'll become a Company Secretary, and it so happened that later on, I became a full-fledged lawyer. With that, if I have to directly answer that question, then either I would have been a badminton player or would have been a full-fledged Company Secretary working in a company leading that department.
Sports can help in becoming a well rounded professional. When I was a badminton player, whenever you were being defeated by the other side, or whenever you played a bad shot, or the other side played a good shot, we always shouted to ourselves, "Fight"—we used to say that probably a hundred times during a game. Eventually, I started saying this to myself when I embarked on my career, and that's how I started to motivate myself.
AM: Sports can help someone become more disciplined, but what keeps you inspired?
VM: My inspiration always is to excel, do better than what I had done earlier. And I'm very ambitious. That ambition drives excellent work. I always thought that I need to do better than what I was doing yesterday so that I can excel in work. Some may think that I'm a perfectionist, but in my view, there's nothing called "perfection" when we are striving to continuously improve. In short, my inspiration is that I need to do better than I did yesterday.
AM: What is the best leadership advice you have given or received?
VM: I am very passionate about leadership. I've created teams, sustained teams, and it's the same thing I'll be doing at Dr. Reddy's.
It's important to note that you need to trust that your team can do the job. You need to hire the right people who can get the job done efficiently and with the highest integrity. No cutting corners, because you need to delegate the work and you should empower your team. At the same time, you should not lose sight of what they are doing. You need to continuously support and guide your team. Moreover, mentoring them along the way is just as effective because it empowers your team and boosts organizational performance and efficiency. You need to also continuously have a quality check on your staff. In short, delegating is an important part of leadership.
How to delegate also means whom to delegate to, what to delegate, how to manage the delegated work, and how to keep track of what you have delegated. Unless you delegate, you will not be able to become a leader. You will always be in the execution position. Ultimately, it's the quality of the team that builds your reputation. If you grow your team, if your team becomes a rockstar, you automatically are a rockstar because your team represents and reflects you. My advice to people for team building is to always pick up a talented person and make them into a rockstar and you yourself will be elevated. It's gratifying.
---
About the Expert:
Dr. Vivek Mittal is Global General Counsel at Dr. Reddy's. He also serves as the company's Chief Data Privacy Officer. Dr. Mittal previously served as Regional Counsel, METAI, for Danaher Corporation – Diagnostics Platform. He has 21+ years of work experience and has worked with leading companies across multiple domains in his career as a corporate legal professional. In addition to holding a law degree, Dr. Mittal is also a qualified company secretary, a post-graduate in commerce, and a research scholar (PhD) in commerce.