When it comes to being passionate about what you do, Richard D. Fain is among the highest ranks. After nearly three decades with Royal Caribbean Cruises, Ltd. ("Royal Caribbean Cruises"), one of the 2016 World's Most Ethical Companies®, Richard brings his valuable experience to the table. In this interview with Ethisphere, we discuss the evolution of the cruise industry, the corporate culture at Royal Caribbean Cruises, the role of metrics and the dynamics of his dual role as both CEO and Chairman of the Board.
How has your decades of invaluable experience with Royal Caribbean Cruises helped you in your current role as CEO and Chairman of the Board?
It's challenging to summarize 28 years in a few sentences but I will say that this is a very complex industry and we deal with a lot of people, in a lot of different places. That experience has been particularly meaningful to me in terms of how you deal with the challenges of interacting with a large organization, along with the complexities of different people with unique skill sets and interests. I think I have the best job in the world. We have people who are passionate about what they do. If there was one characteristic that stands out at Royal Caribbean, it would be everyone's passion. I get to work with innovative and committed people which makes it fun.
Check out how Royal Caribbean Cruises is working to move culture in the right direction 
How would you describe the corporate culture that exists at Royal Caribbean Cruises, including the tone at the top?
I am very proud of the fact that the people here really seem to care about doing the right thing. When we have auditors, consultants or attorneys looking into matters, one of the key pieces of feedback I receive is just how passionate the employees are about, "doing things the right way." While we could set up systems until we are blue in the face, it's the everyday decisions that our 55,000 employees make that need to subscribe to a higher standard. It isn't necessarily the decisions that the board or top management make; it's the decisions each person makes in performing their jobs that counts. We try to follow the expression, "Would you be proud to tell your mother what your decision was?" That seems to be a key driver for so many of our people.
Read the full interview here.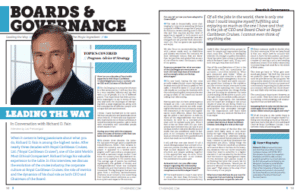 Richard D. Fain serves as Chairman and Chief Executive Officer of Royal Caribbean Cruises Ltd. (NYSE: RCL). Fain became the cruise line company's Chairman and CEO in 1988, and has guided its growth to its current place on the S&P 500, as well as its listing by the Ethisphere Institute as a 2016 World's Most Ethical Company®. Fain is the Chair of the University of Miami Board of Trustees, and serves on the board of the Posse Foundation and the executive committee of the Wo