Whether in the private or public sectors, addressing the growing trust deficit around the world has been a challenge. Almost every study shows that consumers and investors, regardless of region, are becoming increasingly aware of those companies that adhere to a set of values shared by the community – and those that do not. They are also expressing their opinions through their patronage, which favors those companies who "behave" while punishing the ones that fail to comply with the wishes of the marketplace.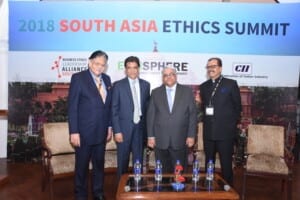 The business world has reacted. In recent times, the tide has gradually shifted and in an effort to impact change, a chorus of companies have united to drive transparent business practices, particularly in India—turning great potential into greater results. Through values-based leadership, good governance and purpose-driven strategies, companies in the region have recognized that they are in a position to make a difference. This has manifested itself in the birth and growth of a new wave of ethical prioritization spearheaded by the Business Ethics Leadership Alliance (BELA) South Asia Chapter.
A year into the launch of the BELA South Asia Chapter, 20 Founding Member companies, together with Confederation of Indian Industry, hosted the first inaugural South Asia Ethics Summit in New Delhi, India. It brought industry leaders from major multinationals together, and featured keynote remarks from Shri Dr. Tejendra Mohan Bhasin, Vigilance Commissioner, Central Vigilance Commission (CVC). Speakers also included Vishal Wanchoo, President and CEO, South Asia, GE; and Sumit Mazumder, Past President, CII and Chairman, CII Taskforce of Integrity and Transparency in Governance, and Yogesh Goel, Vice President, Group Head Ethics and Compliance, Infosys. The event drew CEOs, Chief Legal Officers, General Counsels and other influential leaders in the field of ethics and compliance.
"We are all aware that righteousness is the foundation of good governance," said Shri Dr. Bhasin. "Ethics in governance means probity of conduct with transparency and accountability. Integrity, of course, must be its essential ingredient."
Historically, regional mores served as the North Star for the conscience of business ecosystems. However, in a highly globalized atmosphere, universally accepted ethics and compliance programs are becoming increasingly critical, particularly when working with foreign partners, each with a unique perspective on consumer and investor desires. In many countries, what a business stands for matters as much, if not more, than the services or products it provides. As such, it is more important than ever for companies to adhere to what the customer wants, whether in India or abroad. In response to this new reality, the government of India is spreading a strong message about intolerance of corruption and ethical misdeeds. But the government alone cannot change hearts and minds. Business leaders must authentically embrace these priorities for this shift to have any true impact.
"We need to lead and take swift strides to make India a better place to conduct business," said Sumit Mazumder. "India is poised for the next phase of growth in an environment of very high global connectivity with programs like Make in India, Startup India, Digital India. To sustain growth, excellence in compliance, good governance and transparency are all interdependent and required for success."
Giving back to the community is a hallmark of companies across many regions of the world. Demanded by consumers, companies in Europe and the United States have incorporated such initiatives into their overall business plans. Against this backdrop, developing a purpose-driven culture remains one of the most-debated topics across India, whose culture has yet to adapt to such expectations.
Business leaders can have a profound impact on a company's role in society—and this year, according to the 2018 Edelman Trust Barometer, CEOs are seen as more credible spokespersons when compared to previous years. In India, 79 percent of respondents agree that businesses should lead with regard to pressing cultural issues, and that they should also self-regulate, rather than wait for the government to mandate regulation or give direction. Reflecting these statistics, 73 percent of respondents expect CEOs to ensure their companies are trusted.
In an effort to serve as a powerful force to increase transparency and integrity in the region, and improve India's standing as a fair and safe place for the world to do business, companies like TATA Power, Hindustan Coca-Cola Beverages, DELL, State Bank of India, Mahindra, Bayer Crop Science, Johnson Controls, Diageo India, Dun & Bradstreet, JLL India—some of which have been in business for centuries – are jointly promoting global integrity.
"Culture, integrity and compliance have defined and sustained us at GE for more than 100 years," said GE's Wanchoo during his opening remarks at the Summit. "The biggest role of leadership is to ensure we are taking the opportunities that are presented to take action, or make a comment, that sets the stage for how we want people to operate—in a way that builds trust."
To read more about what these businesses and others have to say, please see an exclusive India edition of Ethisphere magazine at https://insights.ethisphere.com/wp-content/uploads/SA-Ethisphere-Mag-Full-Web.pdf. The world has placed a heavy premium on building trust. It's time for the entire India business sector to respond.
---
About the Author:
Aarti Maharaj is the Managing Director of the Business Ethics Leadership Alliance South Asia, as well as the Executive Director of Communication at Ethisphere. She can be reached at [email protected]