With its sun-drenched galleries, the raucous 16th hole and the famous Birds Nest afterparty, many see the PGA TOUR's Waste Management Phoenix Open as a bucket-list sporting event. As the title sponsor, we at Waste Management on the other hand see golf's most-attended event as an opportunity to push the envelope by demonstrating that zero waste and recycling initiatives can and do work.
Since 2012, Waste Management has taken a zero-waste approach at the Waste Management Phoenix Open, diverting tournament waste through recycling, composting, donation, reuse, or energy creation. In fact, since 2013 more than 4,045 tons of material has been diverted away from landfills (not including the 2020 tournament).
Plenty of planning goes into transforming the massive golf tournament into the most sustainable sporting event in the world. Prior to the event, The Thunderbirds (the tournament's hosts), along with all tournament sponsors and vendors, commit to using only recyclable, compostable, or reusable materials at the event. During the tournament, Waste Management makes it simple for attendees to do their part by providing only two options to discard materials: recycling or compost bins. There are no trash cans at the Waste Management Phoenix Open. To ensure 100 percent diversion, Waste Management team members sort through tournament materials and put systems in place so materials are recycled, composted, donated, reused or used to create energy. Diversion of materials that cannot be recycled or composted takes planning, research, commitment, and creativity to finding next-best-uses.
At the 2020 Waste Management Phoenix Open, which took place January 27 through February 2, Waste Management's number one goal was to educate fans on how to "Recycle Right." Recycling Right means recycling only bottles, cans, paper and cardboard, while keeping food, liquid, and plastic bags out of recycling bins. Waste Management simplified our messaging at the tournament to match our very important year-round messaging to "Recycle Right," conveying the importance that only the right items, free of contamination, make their way into recycling bins. Recycling is something each of us can do every day, and recycling conserves natural resources while making a big difference for the environment.
To help deliver our "Recycle Right" message, Waste Management engaged attendees at the tournament through the WM Green Scene, an interactive, educational area to learn about recycling, zero waste initiatives, and water and energy conservation. Attendees shot, flipped, and dunked recyclables into bins. In addition, for those not attending, we continued our "Recycle Right" mantra through television segments aired during the tournament, and through a #BinThereDoneThat social media contest in which fans created videos tossing empty bottles or cans into recycling bins in entertaining ways or over long distances, for a chance to win a 2021 VIP tournament package.
As our Vice President of Recycling, Brent Bell, said, "At Waste Management, we believe with change comes opportunity and we remain wholly committed to the future of recycling. It's important that we all 'Recycle Right' to help keep recycling programs, and our shared planet, sustainable. Every time 'we' choose to recycle an item, we are giving that item a second life to serve a new purpose and save natural resources. Always remember to buy products made from recycled content—it may seem like a small thing, but it makes a big impact."
As part of the "why you should recycle right" education process, Waste Management promoted second-life products made from post-consumer-recycled materials through earned media opportunities, paid media, and signage on the course and in the merchandise tent. Companies taking recycled materials and producing new products at the 2020 Waste Management Phoenix Open included:
Pratt Industries – The 4,800 cardboard recycle and compost bins used at the tournament were made from recycled paper and cardboard collected from the communities Waste Management serves throughout the year.
Loudmouth Pants – The apparel company worked with Unifi, one of the world's leading innovators in recycled and synthetic yarns, to source REPREVE recycled fibers and produce the third edition of Waste Management Phoenix Open Party Pants. Pants, shorts and skorts were available to purchase at the tournament merchandise tent. To celebrate the recycled fabric and the fans' support of the Loudmouth apparel, WM and its branded merchandise partner Zorch made a $10,000 contribution to The Foundation for Plastic Recycling, an organization that advances sustainable solutions for plastics packaging to support the circular economy.
Puma – The consumer goods manufacturer produced recycled-content hats and shirts from plastic bottles, which were worn by Rickie Fowler and sold in the merchandise tent.
Refresh Glass – In year two of a pilot program, WM teamed together with a local company to divert wine bottles from the tournament and turn them into drinkware and home/office décor. The drinkware was also available for purchase in the tournament merchandise tent.
Bermuda Sands – The apparel company worked with Unifi and their brand REPREVE, to source recycled content material to produce the WM operations apparel the team wore on-site while working the tournament. A few recycled content apparel designs were also available for purchase in the tournament merchandise tent.
Ball Aluminum Cups – In a 2020 pilot program, 7,000 recyclable aluminum cups made by the Ball Corporation replaced compostable cups in the tournament's Patriots Outpost hospitality tent. The infinitely recyclable, lightweight aluminum cups allowed fans to enjoy a cold beverage, then reuse or recycle them.
"By working with manufacturers who take recycled content and create new products, we conserve our finite natural resources and create more market demand for post-consumer content," stated Bell. "It's a win for our planet and for recycling programs."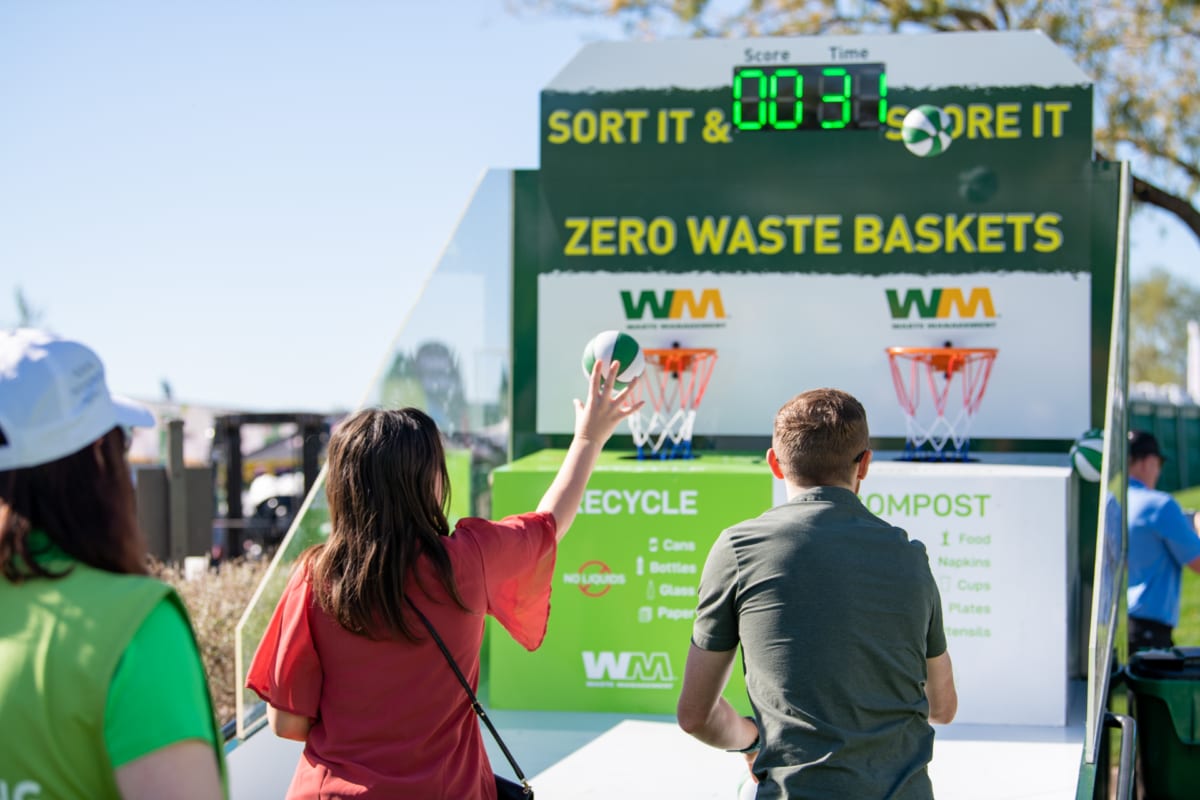 Beyond zero waste, the tournament and Waste Management power many environmental conservation initiatives. To reduce food waste, on-site workers and vendors helped recover unused food and deliver it to facilities that feed the hungry in the local community. In 2020, more than 22,000 lbs. of leftover tournament food was donated to Waste Not. This year, Waste Management also continued our water conservation and restoration efforts, including reusing water from cooking and cleaning (grey water) in port-o-lets and utilizing hand sanitizer instead of water at most handwashing stations. Since 2017, the Waste Management Phoenix Open is a carbon neutral event, as Waste Management offsets all greenhouse gas emissions from tournament operations, as well as player, vendor, and volunteer travel. Finally, the tournament purchases 100 percent renewable electricity from Arizona Public Service, while solar-powered and smart energy compactors were used around the course.
Expanding outside of the tournament's footprint, in coordination with Bonneville Environmental Foundation's Change the Course initiative, Waste Management teamed together with Coca-Cola, M Culinary, Swire-Coca-Cola, The Thunderbirds, Coors Light, Hunter Industries and Microsoft to restore water to the Verde River Valley in Arizona. Thanks to this collaborative group of sponsors, water restoration projects are funded to support local farmers, brewers, and habitats across Arizona. While water is restored to rivers and groundwater that keep Arizona thriving, people are inspired to conserve water through awareness and education.
Waste Management also hosts a Sustainability Forum during tournament week, which convenes leading minds from the business and civic sectors to discuss the state of sustainability today. Nearly 800 people attended the 10th annual Sustainability Forum, representing more than 350 companies and municipalities.
As title sponsor of the Waste Management Phoenix Open, also known as "The Greenest Show on Grass," through 2030, Waste Management will continue to evolve our sustainability goals while showcasing zero waste environmental solutions and educating fans on how to make a positive difference for the planet.
Beyond the Waste Management Phoenix Open, our WM Sustainability Services team has applied many of our best practices from our 11 years as title sponsor to bring solutions that meet the needs of companies, venues, and events across North America. Our team works closely with sustainability advisors who enable venues to streamline operations and eliminate uncertainties. Stadiums, events, and conferences need comprehensive management strategies to optimize resource consumption, stakeholder management, and community engagement, and with all of us working together we're making big strides for the environment.
We leverage our experience with sustainable event management to help balance environmental impacts, while also prioritizing budgetary concerns, because sustainability must be both economically and environmentally focused. We customize programs to help organizations like GreenBiz Group, IRONMAN, MetLife Stadium, and New York Road Runners achieve their sustainability goals. These comprehensive initiatives include managing waste, water, and greenhouse gas emissions, and developing creative approaches to fan education, employee training, sponsorship development, sustainability reporting and third-party certifications. We're proud of our sustainability leadership exhibited at the Waste Management Phoenix Open, while helping other sustainable sports and entertainment programs achieve their sustainability goals.
---
About the Author:
Jim Fish is president and CEO for Waste Management. Prior to becoming CFO in 2012 and his promotion to president in July 2016, he held several key positions with the Company, including senior vice president for the Company's Eastern Group, area vice president for Pennsylvania and West Virginia, market area general manager for Massachusetts and Rhode Island, vice president of price management, and director of financial planning and analysis. He joined Waste Management in 2001. Fish earned a Bachelor of Science in accounting from Arizona State University and an MBA in finance from the University of Chicago.